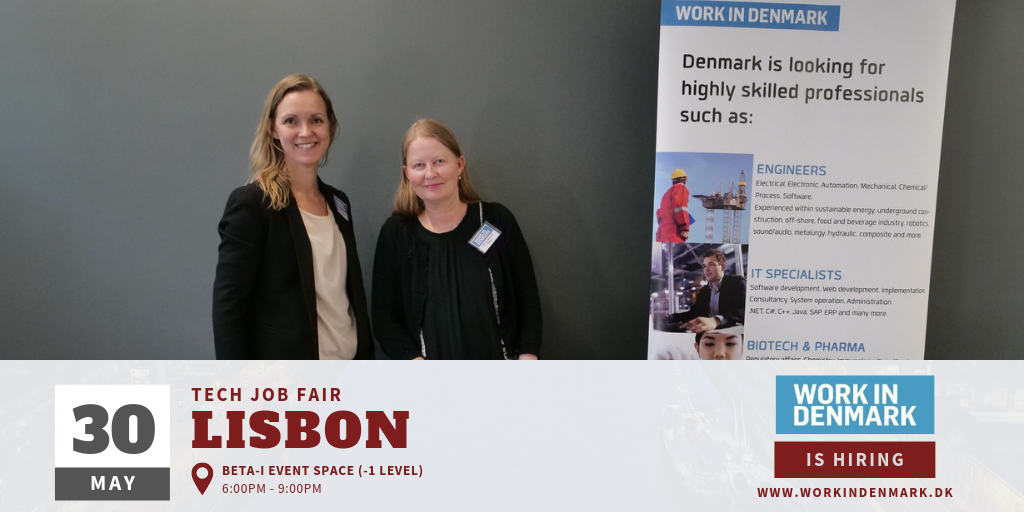 Get the opportunity to work and live in Denmark by joining us at our Lisbon Tech Job Fair tomorrow (30th of May, 2019).  Workindemark, one of the largest job portals in Denmark, will be exhibiting with us.
Lately, Danish job vacancies are increasing in number. If you'll attend our Tech Job Fair in Lisbon tomorrow, you can try your luck, and get the chance work in one of the 3600 companies that are hiring.
To find out if you are eligible to work in Denmark, you must meet the Workindenmark team, they will help you connect to potential Danish employers, which increases your chances of landing your dream job.
Check out the important things you need to know if you are planning to work and live in Denmark in the Q&A below:
If you haven't grabbed your job seeker ticket yet, grab it here now to join us.
How to find a job in Denmark?

Have you moved to Denmark or are you thinking about moving to Denmark to start looking for a job? Then it is time to prepare for the big adventure and get ready to invest a lot of time and hard work. You may encounter competition among candidates (the average number of applications per vacancy is 52!) and you will have to do your best to stand out from the crowd. How do you do that? By offering an employer what others cannot – and by targeting your application every single time. Show the employer what you can accomplish by researching the company thoroughly and pointing out the match between you and the job! Keep your reader in mind and provide the information he or she needs to know.
How easy is it to move to Denmark?

Once you have found a job in Denmark, the next step is to plan and carry out your move.
Moving to another country and becoming familiar with all local laws and regulations can seem like a great challenge. But the fact is that there are only a few compulsory registrations you must obtain before and after you arrive in Denmark. The rules governing these depend on your nationality.
Moving to Denmark also means finding a place to live and perhaps bringing your family with you, setting up childcare, selecting a school for your children and perhaps finding a job for your spouse.
It might seem overwhelming at first, but if you start planning well in advance, and make sure to gather all the relevant information, setting up a life for yourself and your family in Denmark does not have to be difficult.
How to adapt the living trends in Denmark?

Moving to a foreign country and adapting to a new culture can take time. However, coming to a country like Denmark where the standard of living is generally very high and people feel happy and safe will most certainly make this process easier.
Denmark has well-functioning infrastructure, a strong educational system and rich cultural life that can make living in Denmark a good experience for you and the family you may want to bring.
How to start working in Denmark?

To have a good start in your working life in Denmark, it is a good idea to get to know how the Danish labour market works, including formalities, working conditions and workplace culture.  It may be structured and work differently than what you are used to.  But there is no reason to worry, since the job satisfaction rating in Denmark is among the highest in Europe.
The Workindemark team is excited to meet you at our Tech Job Fair in Lisbon tomorrow (30th of May, 2019). They are looking forward to help you get job opportunities that fit your skill set and profile. Don't miss this opportunity to work and live in Denmark. Get your CV ready, and grab your ticket here before it runs out.
Don't forget to follow Workindenmark on Facebook, or you can visit their website to get the latest Danish job vacancy updates.
Good luck, and see you in Lisbon!