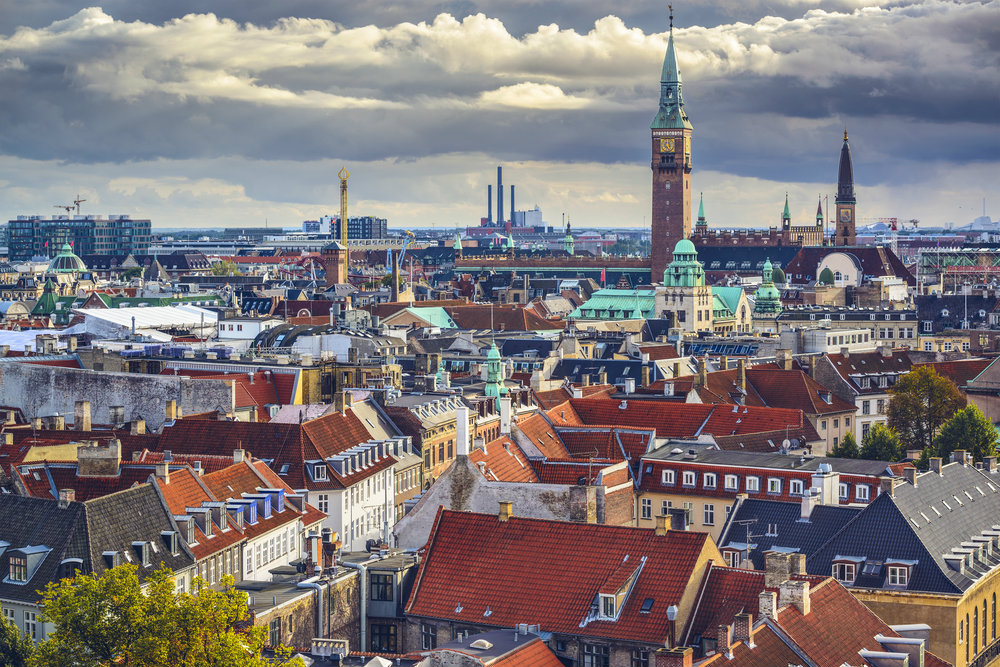 Since the turn of the 21st century, Copenhagen has seen a strong urban and cultural development, facilitated by investment in its institutions and infrastructure. The city is the cultural, economic and governmental centre of Denmark; it is one of the major financial centres of Northern Europe with the Copenhagen Stock Exchange.
Copenhagen's economy has seen rapid developments in the service sector, especially through initiatives in information technology, pharmaceuticals and clean technology. Since the completion of the Øresund Bridge, Copenhagen has become increasingly integrated with the Swedish province of Scania and its largest city, Malmö, forming the Øresund Region.
Denmark is famous for advancements in the field of robotics, acoustics and cryptography, as well as progressive focus in digitisation of the public sector, IT adoption in businesses and support for entrepreneurial innovation, which has led to a strong tech scene in Copenhagen. With numerous global successes to boast, including Skype, Trustpilot, JustEat and Tradeshift, the city is very fertile ground for tech startups to pioneer great success for themselves and the city. These are the best coworking spaces if you are looking to settle or work in Copenhagen.
1. REPUBLIKKEN
Located in  26 Vesterbrogade, Republikken is the place where the self employed are able to have a space to call their own without the solitude of the usual cafe, cubicle or home they're used to. At Republikken, you can substitute those spaces for a more efficient and conducive environment.
Only 3 minutes away from the central station, it is easily accessible by just about anyone from the heart of the city. Coworking options depend on what you need according to your preference from community, flex or fixed.
Membership plan; Connect membership at 850Kr per month + VAT, Flex desk at 1875Kr per month and a fixed desk at 3090Kr per month and a private office starting at 4.500Kr per month.
The space  has more than 150 members working independently in individual companies.
Republikken is open for all trades and encourages co-creation and mutual inspiration. There are members working with architecture, graphic and furniture design, coding, engineering, media, communication, journalism and more.
You can try out open workspace for a few hours or a day, no need to book a work pass in advance.
For more information visit Website  Facebook
2. SYMBION
Located in 3 Fruebjergvej, Symbion is owned by the University of Copenhagen, CBS, the Symbion Foundation as well as a number of private shareholders. It has a corporate charter that calls for competence and skills development, which is based on an unadulterated desire to strengthen entrepreneurship in Denmark.
Symbion was established in 1986 and stems from the vision of creating an optimal framework for entrepreneurs by linking research and entrepreneurship together with the knowledge and experience possessed by the more established Danish business community, and by reinvesting profits in new initiatives for the benefit of entrepreneurs and startups. This is the vision they still live by.
With over 30 years' experience in helping startup companies to grow. The experience is unique compared to other coworking spaces and entrepreneurial environments.
Under the Symbion umbrella are 3 locations, including this one. The others are Creators Floor, which is located at CBS (Copenhagen Business School) and the space known as Univate, which is located at the Copenhagen University's South Campus at Islands Brygge. Symbion will accelerate your growth with targeted knowledge, networking and learning and by offering access to a unique community of like minded souls. Some of the nation's most talented entrepreneurs gather at Symbion creating a vibrant space for knowledge sharing and to make use of each other's competencies.
Membership plan; a private office at 4,663Kr per month, a dedicated desk at 2,595Kr per month, a virtual office at 475Kr per month, a flexible desk at 1,395Kr per month. A laboratory for research from 11,970Kr. Makerspace membership; 195Kr for a daily pass, dedicated desk at 2000Kr and 795Kr for a weekly pass.
For more products and information visit: Website  Facebook
3. RAINMAKING LOFT
Located in Danneskiold-Samsøes Allé 41, it is easy to get a sense of the culture, if you walk through the house on Holmen. Built in 1888 it used to be the facility, where the Royal Danish Navy equipped their men for battle. While they like the idea that they prepare the residents for challenges, the uniform requirements have loosened since then.
They offer lounge zones on each of the four floors. Residents take a break – and sometimes a nap – in soft couches, while others perfect their ping pong in the Game Zone upstairs. The atmosphere is relaxed, but at the same time they have conference rooms that fit the strictest advisory board.
Morning yoga is a priority here. Just like nice bathroom facilities, so you can take a shower after a run along the harbour. They value jazz in the coffee shop on afternoons and a beer to kiss off the week.
While they want to keep up this culture, they also felt it is about time to expand their scope. Teaming up with Talent Garden connects Loft to a community of 23 coworking campuses, innovation schools and tech events across Europe. Hello, 3500 fresh faces. They have sister spaces at Rainmaking at Pier 47  The Camp and  CPH Fintech Lab 
Now they are going to explore this new ecosystem. Share launch tips with fellow entrepreneurs in Milan, recruit a UX'er from Dublin, and find the right angel in Barcelona. What does it mean to be a European startup? That's something they're defining day by day.
Membership plan; Tag club at 500Kr to work across all locations, a flex desk at 1.400Kr per month, a fixed desk at 2.700Kr per month and team rooms at 13.000Kr per month.
For more information visit Website  Facebook 
4. GREENCUBATOR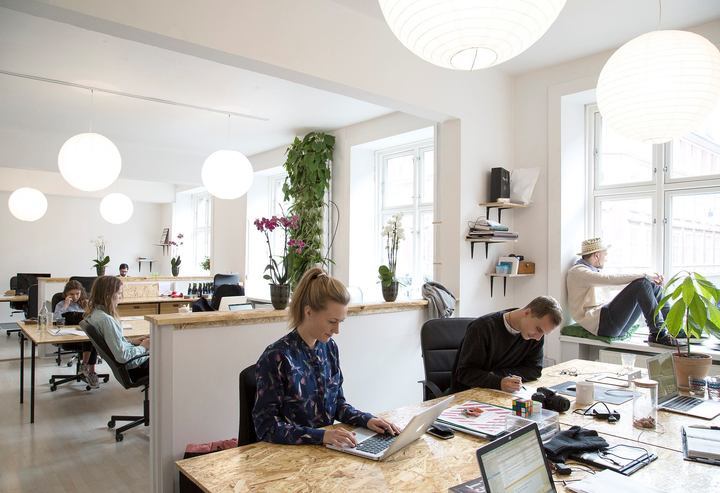 Located in 20 Norrebrogade, a non-profit coworking office community, Greencubator's ambition is to create an inspiring framework for sustainable companies who may need a little bit of help starting and developing their businesses. Here, you will become a part of a large network of innovative minds, have collaborative advisors and an advisory board to lean on plus plenty of free courses and presentations to increase your knowledge and skills.
Creative, brave and passionate souls become coworking members of Greencubator, the platform and focal point for industrious individuals or small companies wanting to make a difference. You will be able to pick the brains of talented people and get assistance in matters to do with law, audit, communication, graphic and web design plus attend the quarterly board meetings where you can get into sparring, trying out ideas and concepts, as well as learning how to pitch.
Coworking membership fees are flexible and affordable, so you will still be able to afford to dine out on kogt torsk (poached cod) with mustard sauce. If you choose the "Sunrise/Sunset" option you will have a space in the creative area with 150 / 25Mbit Internet, the use of meeting rooms, a mailing address and access 20-30 hours per week.
Membership plan; a flex desk at 1000Kr, full time at 2000Kr, meeting rooms and rooms at a variable price.
For more information visit Website  Facebook
5. SPLIHUSET
Located in 43 Pilestræde, Spilhuset offers individual or company access to fully furnished workstations in funky surrounds with height adjustable tables and comfy office chairs. There is high speed Internet to connect to the world, access to both small and large meeting rooms and optional lunch arrangements for when hunger pangs take over brain waves.
You will have cosy nooks for brainstorming or relaxing and a big dining hall to invade when you want to. In other words it is a home away from home you crave where you can work on your dream project.
Coworking members choose from flexible, full-time or private office scenarios with different benefits and perks. A flexible membership is perfect for those who wish to work a few times a week, whilst the full-time member will have a permanent desk to call home.
If you go for a private office, you will have your own key to your cosy space and access to amenities such as the tea-kitchen, a fully equipped kitchen to whip up feasts, several meeting rooms, a cool lobby area and a big dining hall for events.
Catered lunches are optional and Spilhuset take care of all the mundane office chores.
Membership plan; a flex desk at 999Kr per month, a full time package at 2.600Kr per month and a custom plan for a private office.
For more information visit: Website  Facebook  Twitter
6. THE RABBIT HOLE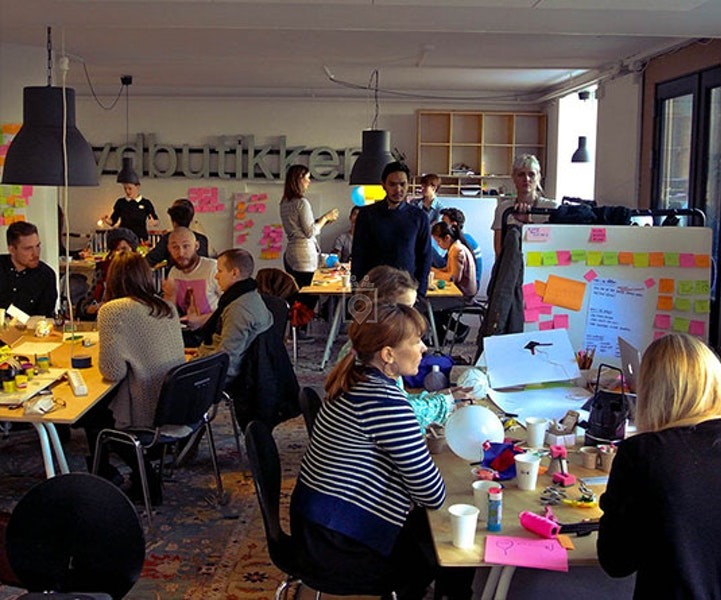 Located in  Frederiksberg Allé 25 1820 Frederiksberg C,  The Rabbit Hole is a coworking space and community in the centre of Frederiksberg Avenue. Equally parts interesting and effective, The Rabbit Hole provides a fresh coworking experience to those who have just started to consider it as an option or for those who are seeking for a new shared workspace.
Refreshing natural light, buzzing with radiant energy throughout every nook and cranny of The Rabbit Hole's coworking space, you'll be glad to wake up every morning to work in this atmosphere. The interior retains much of a minimal chic style to it and it's cozy yet professional at the same time. Of course the usual facilities you'd expect to be found in a workspace are also available.
The community is kept buzzing with high energy with a great deal of momentum retained for the focus is on their goals. Being a part of this community at The Rabbit Hole enables you to be busy as a bee, productive as can be! The level of connectivity is amazing and is kept up to beat with social gatherings as well as events. Join in the fun, collaborate through sharing your ideas and watch as opportunities for exploration and growth arises.
Membership plan; a flexplace of 4 days a week at 1,200Kr per month, full time for starters at 1,500Kr and full time for established at 1950Kr per month.
For more information visit: Website  Facebook
7. SOHO
Located in  68 Flæsketorvet, the sister coworking space to Noho, Soho also has the motto of "work, stay, play". An amazing venue with a creative and bustling vibe where your dreams can take shape and you can mingle with a community of like minded souls sharing your values and ideas, Soho is a unique environment with plenty of social life happening within its walls.
A cocoon for innovative and passionate people, you will have plenty of opportunities to show off your networking skills and dynamic personality at a wealth of events both informative and social. You will be able to connect, collaborate and mix with a diverse crowd of coworkers from all walks of life and industries. Soho attracts wandering nomads with laptops in tow, local freelancers, startups and entrepreneurs, as well as local businesses to its doors.
Coworking membership fees are flexible and affordable, so you won't have to miss out on your side order of pickled beetroot or bacon at dinner. You get to choose from a virtual membership, an open or a fixed desk or an "On-the-Fly" option for the special few who don't need a constant space. Starting at 3.600Kr per month for a dedicated desk, 1.500Kr per month for "On-the-Fly", a private office at 4.100Kr and a virtual office at 500Kr.
For more information visit: Website   Facebook
Whether you are looking for a job, your next co-founder or recruiting your tech talent, Tech Events is the place to be for all professional networking. Visit for more information about the events and how you can get more out of the experience and also get yourself a ticket to an event!
Website: Techmeetups.com  visit and treat yourself to a community of tech business events and support! 
TechMeetups.com 8 years. 21 cities. 68 job fairs. 1100+ hiring companies. 60,000+ job seekers.