HTML5 is certainly the hot topic right now. It aims to improve the HTML language with support for the latest multimedia, while keeping it easily readable by humans and consistently understood by computers and devices such as mobiles and tablets.
At TechMeetups, we understand the need to always be at the forefront of technical advances that the world is embracing and we feel responsible to help our members achieve this too.
So why wait? Come and join us for the event next week!
Event Schedule
7:00pm: Arrivals & networking
7:30pm: Welcoming & Introductions
7:35pm: Teerasej Jiraphatchandej, User Group Manager, Thai Adobe Developer Community
He will give us Pros and Cons of using either HTML5 or native language toward mobile device
8:05pm: Panel discussion (tentative session, still open for anyone who interested being panelists)
8.35pm: End of event
About Our Speaker: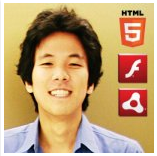 Teerasej has worked in Adobe technology for 5 years in mobile and web technology, especially in user experience design. Currently, he has given right knowledge and understanding in Adobe technology as user group manager of Thai Adobe Developer Community. He's also speaker and instructor for many companies and universities.
Thai Adobe Developer Community (aka. ThaiADC) is a community for people who love and enjoy in Adobe technology. At the moment it hosts event and seminar about cutting-edge technology, such as, Adobe Edge, PhoneGap, HTML5, Mobile Web  Design, Flash, and Adobe AIR.
Join us!
Thursday, October 25, 2012
7:00 PM
Hubba Thailand
19 Soi Ekkamai 4, Sukumvit 63 Rd., Prakanong Nua, Wattana , Bangkok
About Techmeetups:
TechMeetups has been setup to create a global network of Tech communities from San Francisco to Sydney. We believe that Tech communities are isolated and great things can be achieved if we connect within our cities and outside our borders. Our goal is to create a global Tech cluster of over 50 inter-connected Tech communities by 2013.
Membership to our communities is free and anyone thinking about doing their own Startup and wanting to bounce ideas off each other, meet potential partners or investors in their city or even connect with like minded individuals in other parts of the world are welcome to join our groups! TechMeetups is all about YOU so come along, join us and lets connect to form a truly global tech community!