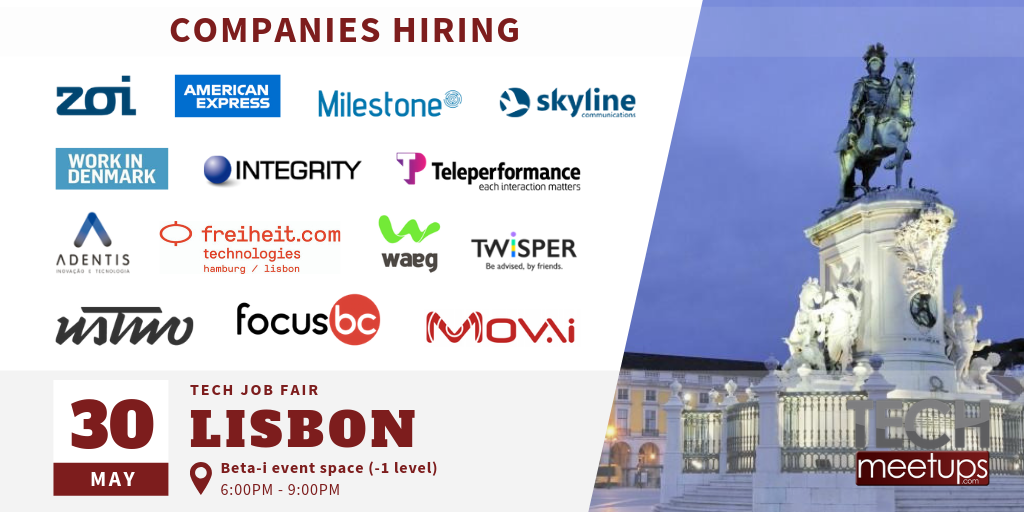 Great news to everyone who is looking for a job in Lisbon! We will be having our Tech Job Fair there this Thursday, 30th of May, 2019!
Amazing career opportunities await you as the leading and fast-rising tech companies in Europe will be exhibiting with us. They are looking forward to hire the best tech talent in the city to join their teams.
Take a closer look at the 14 companies who will be joining us.
Don't forget to get your free job seeker ticket here to join us.
1. Zoi
Zoi is comprised of a team of over 80 technologists. They advise and support their well-known customers in challenging IT and technology projects. They tagged themselves as the digital companion of the so-called hidden champions. They focuses on Code, Cloud, Data, Electronic Engineering, Creation and Exploration.
2. American Express
Since 1997, American Express has partnered around the world with a group of world-renowned banks and financial institutions.  As a well-established multinational company, American Express provides numerous career opportunities, benefits, and perks to their employees.
3. Milestone

Milestone has extensive implementation experience in various areas of management, with a particular focus on financial, management control, treasury, planning and budgeting, consolidation, costing, profitability analysis and reporting. With a very high level of seniority among its consultants (average experience of thirteen years), Milestone currently has 42 employees in total.
4. Skyline Communications

Skyline Communications is the global leading supplier of end-to-end multi-vendor NMS, OSS and orchestration software solutions for the broadcast, satellite, cable, telco and mobile industry. Their flagship DataMiner network management platform, which received various prestigious awards, enables end-to-end integration of the most complex technical ecosystems and has been deployed by leading operators around the world.
5. Workindenmark

Workindenmark is a public employment service for highly qualified international candidates looking for a job in Denmark, and Danish companies searching for talented foreign candidates. Workindenmark is part of the Danish Ministry of Employment and member of European Employment Service (EURES).
6. Integrity.pt

Integrity.pt is a Consulting and Technological Audit company with a strong emphasis on Information Security. They offer services that allow their clients to have their information secure against potential incidents and security attacks.
7.Teleperformance

Teleperformance is a strategic partner to the world's leading companies, bringing solutions and enhancing customer experience during each interaction.  They are the largest interaction expert team in the market: multicultural, highly skilled, and deeply knowledgeable, with a wide range of integrated omnichannel solutions, technology, and the highest security standards.
8. Adentis Portugal
Adentis Portugal supports, develops and delivers technological and innovative projects. They contribute actively to the growth and evolution of their employees, customers and partners. They support the technological advancement of the global community, in responding to the challenges of the present and in conquering opportunities for the future.
9. Freiheit Technologies

As a technology company, Freiheit Technologies has a steadfast belief that technology is going to improve the future. For every digital challenge, there is a brilliant mind to solve it. They strive to make the world a little better every day. Whether if they develop innovative products for their client, develop their own work and company culture, or support free software, campaign for digital civil rights and against software patents.
10. Waeg
At Waeg, they take great pride in delivering rapid and measurable business results, turning ideas into enterprise-strength solutions on the world's leading SaaS platform. They are the leading Salesforce® Platinum Consulting Partner with offices across Europe.
11. TWISPER Development

TWISPER Development is a startup created to further development of the TWISPER APP. They  connect users from all parts of the world! They are dedicated to find an innovating way to make sure that the end-user has a positive experience.
12. ustwo

ustwo is widely recognised as a leading design, technology, games, and venture company, whether this is on the stage of Apple's WWDC or at Fast Company's Innovation by Design Awards. They created Monument Valley, the award-winning premium mobile game that enthralled millions and redefined the category.
13. Focus BC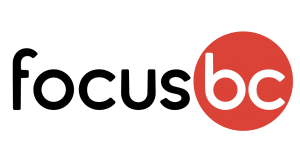 Focus BC is formed by an executive team with extensive management experience and market presence, strong consulting skills and business solutions implementation in the areas of Performance Management and Location Intelligence. They have partnered with Google for the EMEA in Google Maps Enterprise platforms.
14. MOV.AI

MOV.AI is a startup that provides an industry-grade operating system for autonomous intelligent collaborative robots for universal commercial use. The Company was founded by Limor Schweitzer, an industry veteran with over 20 years of experience in developing robots, robotic solutions and sales robotic equipment. They have a strong team of best-of-breed robot developers with more than 13 years of experience.
Venue Host: Beta-i

Beta-i is an organization created to boost entrepreneurship, and its mission is to foster a true innovation culture. It helps new and established businesses grow, by offering 360º innovation services with 6 main areas: Acceleration, Events, Corporate (Innovation & Open Innovation), Education, Investment and Hub.
Internationally recognized as one of the leading companies in this field, and for running Lisbon Challenge, one of Europe's most active startup accelerators, since 2010 it has received +6700 applications to our several programs and accelerated over 970 startups, that have raised +80M.
Now that you already have a glimpse of our 14 participating companies, you should not waste your time!  Get your FREE ticket here to join us.
Our Tech Job Fair in Lisbon will be happening on the 30th of May, four days from now,  thus you should start preparing your CVs today. If you are not confident with your CV, our team can create a professionally-designed one for you. This can help you attract the attention of your potential employer and increases the chance of you getting hired. Get it done here.
Don't forget to follow us on Twitter, Facebook, LinkedIn and Instagram to get real-time updates of the event.
Good luck and see you in Lisbon!