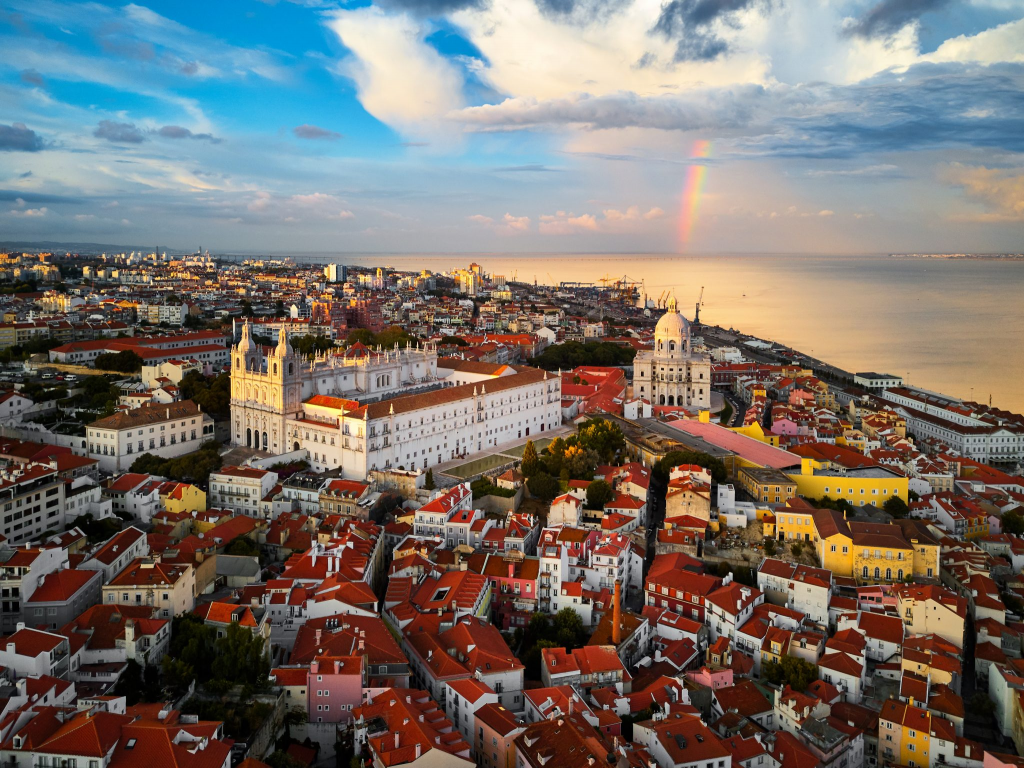 Lisbon has been granted an honorary title as "The California of Europe". Let's face it, there isn't much competition. Sun, surf, ocean waves. No wonder there is a franco-german invasion taking place. They are all craving for Vitamin D and pastéis de nata.Technology conferences are setting up shop in Lisbon. Most prominently, after a three-year trial, Web Summit has chosen to extend its stay for another 10 years, attracting 80,000 tech professionals to the city's Altice Arena and expected to generate $3.5 billion in revenue for the country in the next decade.
The Lisbon Investment Summit, held every June, is an opportunity for homegrown startups to pitch international venture firms and has significantly contributed to putting Lisbon on the European tech map. Dig publishing, Go Youth, Singularity University have all chosen Lisbon as an HQ or chapter in recent years.
The city's ability to absorb and accelerate new businesses continues to expand, making it faster and easier to open a startup in Lisbon compared with many other European tech hubs. At the same time rents and cost of living stay affordable. Beta-i, one of Lisbon's historical co-working spaces and accelerators has tripled in size to around seventy employees in the last 12 to 18 months and is driving much of this boost.
Dozens of new workspaces have opened in the last year, such as Heden, IDEIA, and Cowork Lisboa, to name a few. Exclusive members club Soho House recently announced that it will open a house in Lisbon by 2020. Last but not least, the city announced the launch of Beato Creative Hub, a 35,000 m² mega campus scheduled to open before the end of 2018, comparable to Paris' Station F, and creating an estimated 3000 jobs.
It's never been easier to find a place to accelerate a business or start a freelance activity in the thick of Lisbon's bustling tech scene. Dozens of international startups are opting for Lisbon as their headquarters. Companies like Linkilaw, JungleAi, and Yoochai, all run by international founders, either decided to launch here or move to Lisbon early on. New York-based James AI opened an office here, and so did Veniam after a $26.9M fundraise.
1. AVILA SPACES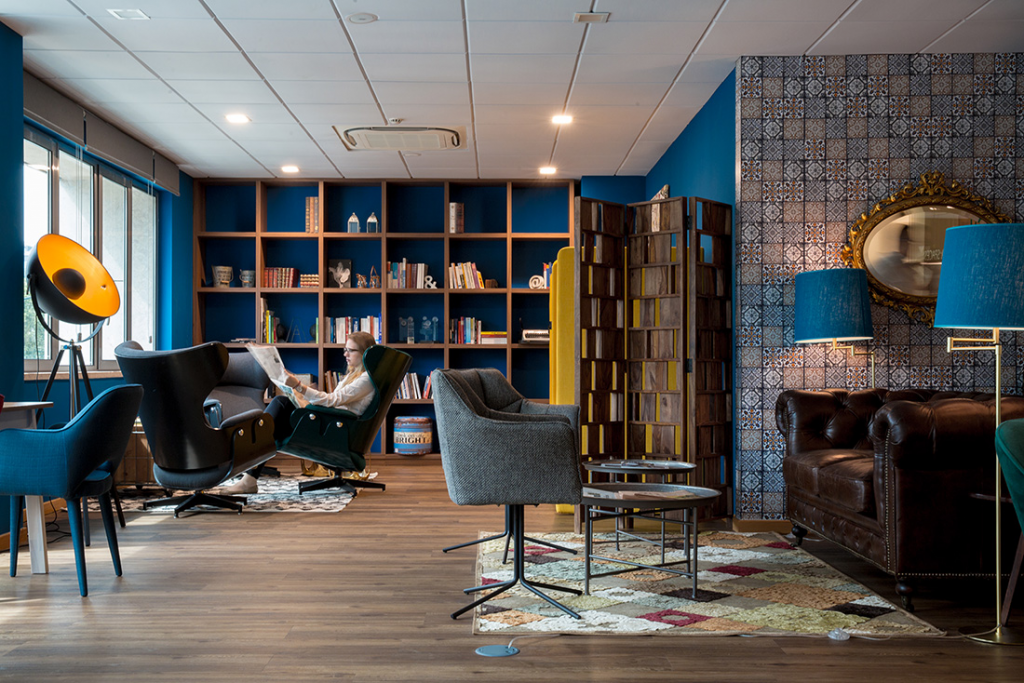 Located at Av. República, Winner of Best Cowork in Lisbon 2018 & 2019* Avila is an ambient coworking space, beautifully and ergonomically furnished for an unforgettable experience.
At Avila coworking we customise a range of corporate services for your convenience so that you can enjoy a relaxing workplace, in style and comfort. Host guests and workshop sessions in our fully equipped meeting rooms. Enjoy the premier comfort of our exclusive coworking Business Lounge.
Coworking at Avila Spaces is more than just a desk. Welcome to the office of the future!
We have every kind of setup to suit all your business needs. Choose from private office suites, dedicated coworking desks, or enjoy the hotel style of our boutique Business Lounge.
Avila Spaces offers the most comprehensive membership plans; Business class at 138 Euros per month (annuity) or 150 Euros per month (monthly), Executive class at 183 Euros per month (annuity) or 200 Euros per month (monthly), Basic at 250 Euros per month, Corporate at 300 Euros per month and Premium at 350 Euros per month. The spaces offer free company registration services, accounting services from 100 Euros, website services at 500 Euros and patent and trademarking free analysis. Virtual offices; basic at 50 Euros, high at 60 Euros, higher at 69 Euros and highest at 78 Euros.
For more information visit Website  Twitter
2. WORK AVENIDA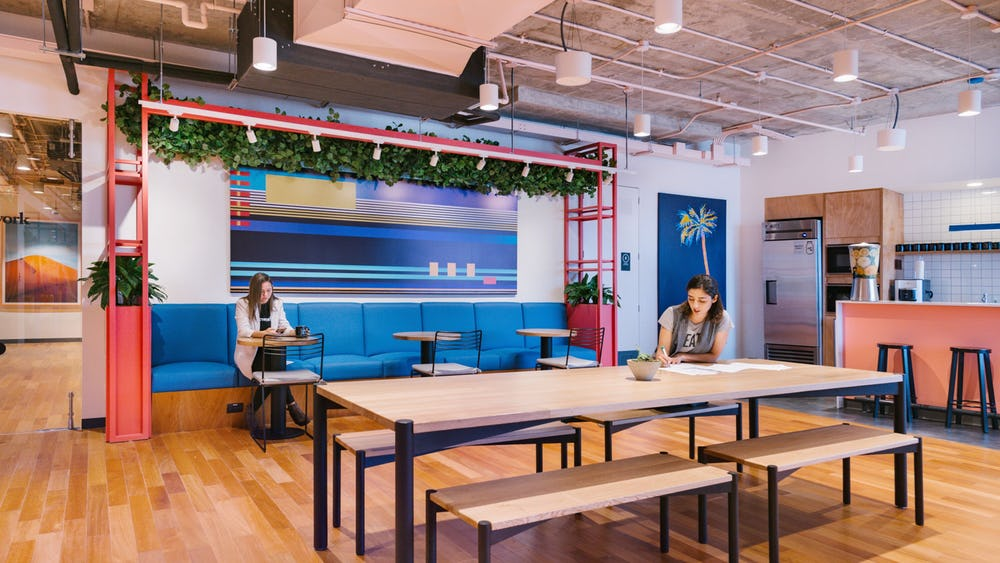 Located at Avenida da Liberdade, 262,  Work Avenida is a new co-work space, office and virtual office in the heart of the city, with multiple plans to meet your needs.
They have co-work and meeting rooms, business lounge, terrace and pantry, all fully equipped, and a range of services at your disposal.
Combining the modern decor with the classic architecture of the building, this is the place to work in Lisbon's Central Business District.
Membership plan; Cowork flex at 30 Euros a day, Cowork fix at 300 Euros a month, Business Lounge at 20 Euros a day, private office at 800 Euros and meeting rooms at 40 Euros an hour. Event space is available upon request.
For more information visit Website
3. UNICORN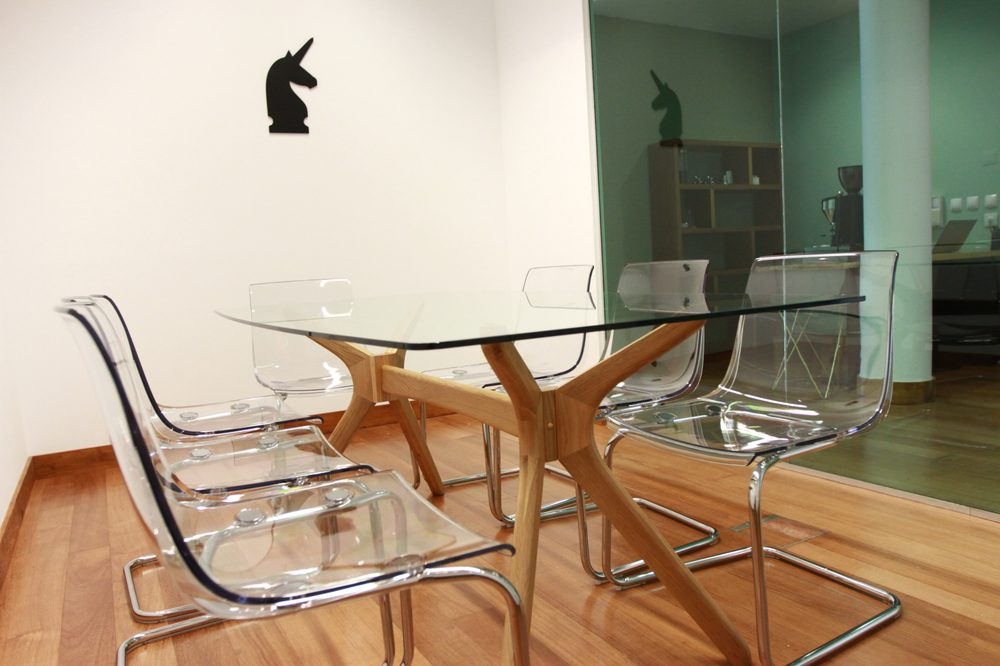 Located in Avenida da Liberdade 10, 3, and Marquez Rua Filipe Folque 2, Fully serviced workspaces in the heart of Lisbon.
From a receptionist, coffee, filtered water, fruits, cleaning, janitor service and more are all included in the rent. Let us take care of running your office.
Private offices, flex or fixed desks. Whether you are in need of a single team office, a desk for a day, month or year. The spaces can accommodate all your needs.
Here you have all included and no hidden costs. Free barista coffee, fruits, filtered water, cleaning, janitor service and more. Fit your need in single workstations or private rooms for smaller and bigger teams.The community manager is the contact person for your questions or any needs. Each location has one to deliver mail and packages, welcome your guests, prepare fresh coffee and offer support during the day.
Offices accommodate 4 people and can go up to 30 plus. Each space has meeting rooms, phone booths, storage units, and a dining area.
Membership plan; starting from 180 Euros per month.
For more information visit Website  Twitter
4. BWORKING SPACE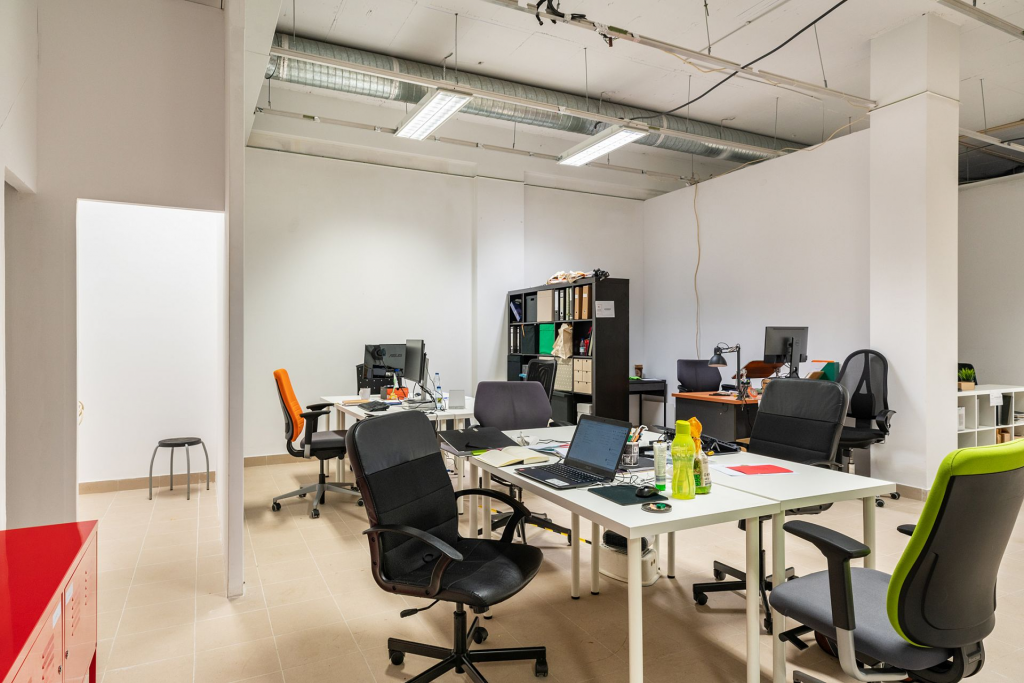 Located in 13A Rua Latino Coelho, store, the first located in the center of the Portuguese capital in the Saldanha business district, Avenidas Novas, opened its doors in December 2017, as an inspiring place where ideas flow, businesses can be built and relationships evolve.
The ideal solution for creative and professional businessmen looking for a space in Lisbon. The tables are surrounded by giant windows that create an incredible atmosphere of comfort that only natural light can provide and if you still want to catch the beautiful Lisbon sun.
They intend to differentiate their locations through the adaptation of street stores and other space stores, together with the surrounding environments, some of them with a showroom to present the products of the residents of the spaces, and of course, always with a strong character of a project Social.
But do not just have an idea, you have to implement it. To that end, Bworking Spaces created Bmentoring, a mentoring program for entrepreneurs that supports the process of sustained development of business ideas and business start-ups or social and humanitarian projects
Being a resident of BWORKING SPACES means that the client will have an "all over the world" workspace in all network spaces that they expect to start opening from the autumn of 2019, after being the consolidated model.
Membership plan; 18.45 Euros for a 1-day pass, 73.80 Euros for 1 week, 184.50 Euros per month. With a 2 day trial offer.
For more information visit Website  LinkedIn 
5. HEDEN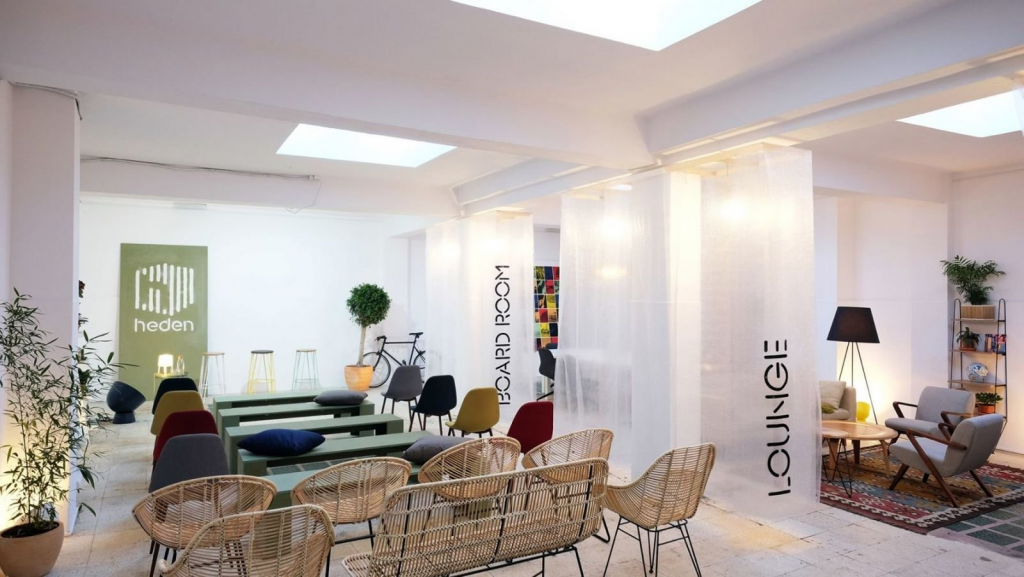 Located in  Tv. Pereira 35a, 1170-312 Lisboa, Heden is a popular co-working space just off a busy square in Graça (they also have a space in Chiado as well). The flex desks are really spacious with lots of room to spread yourself out. There's a lovely little lounge area with comfy sofas and books, ideal for screen breaks. It also has a huge downstairs area where talks are hosted, this is also where you'll find the art studios. Tea, coffee and fresh fruit are included.
Membership plan; Flex desk at 10 Euros for half a day, 15 Euros for full day, 60 Euros for a week, 110 Euros for 10 days and 150 Euros monthly. Fixed desk at 20 Euros a day and 200 Euros monthly.
For more information visit Website  Facebook
6. IMPACT HUB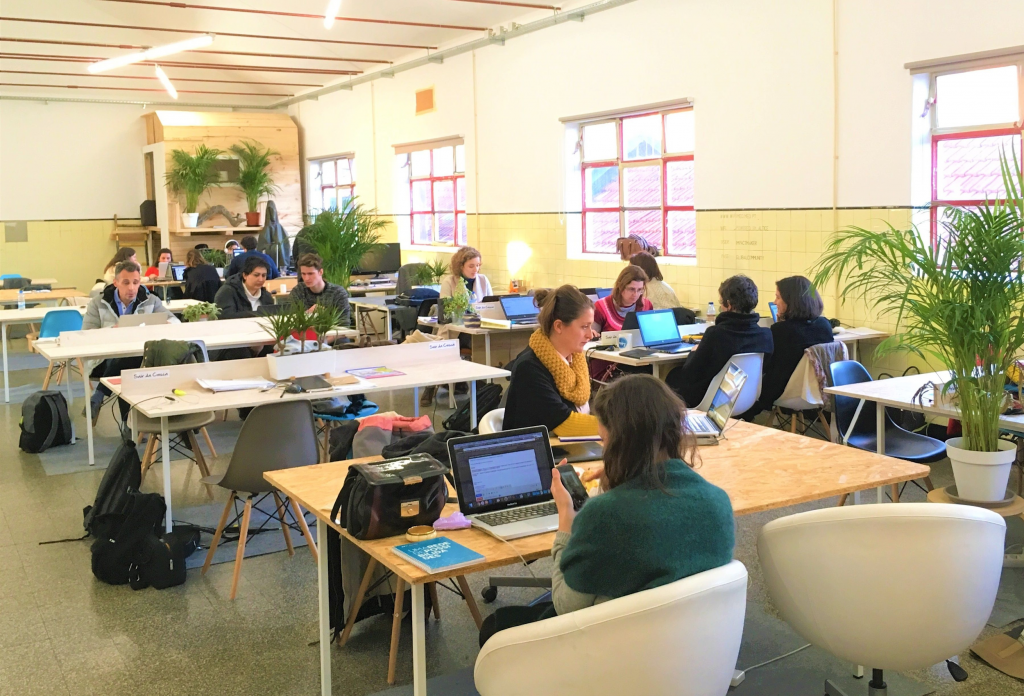 Located in R. 1º de Maio 103, 1300-472 Lisboa, inside the Carris Museum complex, Impact Hub has two private Skype booths, a sunny workspace filled with natural light, and a big kitchen. It also has a whole raft of community events for members including movie screenings, networking drinks and wellness activities like yoga.
Impact Hub is located next to the LX Factory, but not in it. The area it's in is an unusual little amalgamation of buildings and businesses that includes the Museu Da Carris and Village Underground. Hopefully, the council will join the two areas up as I'm sure a lot of people would like to hop between the two.
Membership plan; Connect at 40 Euros 1 day a week, Starter at 80 Euros 2 days a week, Regular at 120 Euros 5 days a week and Fixed at 150 Euros a week. Digital membership at 10 Euros, Hub membership at 40 Euros per month, Team membership upto 4 people at 450 Euros.
For more information visit  Website  Facebook
7. COWORK CENTRAL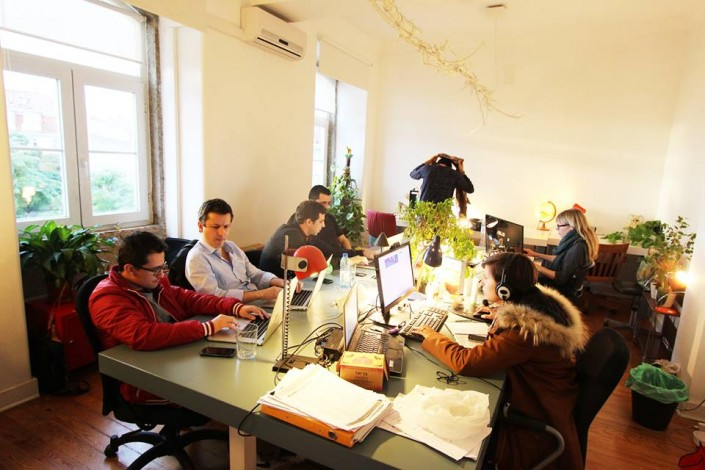 Located in Praça Duque da Terceira 24, 1200-014, Cowork Central is in the Cais do Sodré neighbourhood, they have another base in Príncipe Real as well. As well as enviable views over the Tagus River, the office space also offers perks such as free coffee. Business-friendly amenities include fibre broadband, a dedicated room for Skype calls, and access to a printer and scanner.
You can also rent a screen for 3 Euros, and get 24/7 access to the space on a quarterly or monthly pass.
Membership plan; 12.50 Euros a day, 55 Euros a week, 10 Euros for roaming pass, 100 Euros monthly part-time, 155 Euros monthly full-time, 185 Euros monthly fixed, 525 Euros 3 months fixed.
For more information visit Website
8. OUTSITE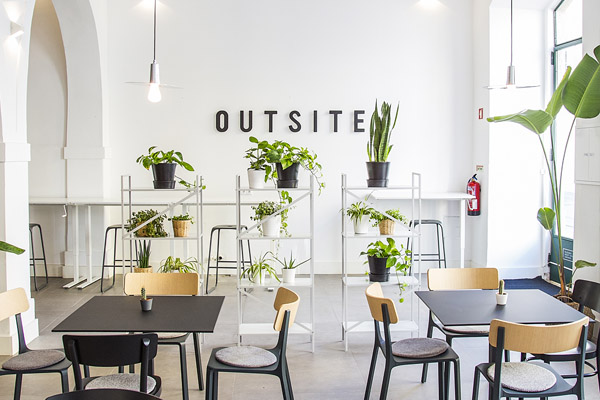 Located in  Rua de S. Paulo 109, 1200-275 Lisboa, Outsite began as a co-living space but it's now also a large co-working area with space for 40 people. The space has big windows, which means it's bright and light during daylight hours. There is also a meeting room, printer, and standing desks.
Situated in Cais do Sodré, it's in a good and central location for those visiting Lisbon. The Time Out Market is just a few minutes' walk from here, and most city centre attractions are easy to get to as well.
Two big plus points are the free coffee (many co-working spaces charge for this) and the number of events that Outsite hosts. It's also very easy to buy passes on Outsite's website, and you can also check yourself in.
Membership plan; a day pass at 15 Euros, weekly pass at 70 Euros, monthly pass at 150 Euros.
For more information visit Website
Whether you are looking for a job, your next co-founder or recruiting your tech talent, Tech Events is the place to be for all professional networking. Visit for more information about the events and how you can get more out of the experience and also get yourself a ticket to an event!
Website: Techmeetups.com  visit and treat yourself to a community of tech business events and support! 
TechMeetups.com 8 years. 21 cities. 68 job fairs. 1100+ hiring companies. 60,000+ job seekers.