The economy of the City of Paris is based largely on services and commerce; of the 390,480 enterprises in the city, 80.6 percent are engaged in commerce, transportation, and diverse services, 6.5 percent in construction, and just 3.8 percent in industry. The largest sectors of activity in the central business district were finance and insurance. The southern part of the 15th arrondissement, is a centre of activity for the media and information technology. The Paris Region economy has gradually shifted from industry to high-value-added service industries (finance, IT services) and high-tech manufacturing (electronics, optics, aerospace, etc.)
In 2018, Paris was the most expensive city in the world with Singapore and Hong Kong. Station F is a business incubator for startups, located in 13th arrondissement of Paris. Noted as the world's largest startup facility.
Paris has grown exponentially as a sci-tech hub in recent years and is quickly becoming one of the most attractive cities in Europe for sci-tech companies, investors and entrepreneurs to set up shop.
Banking and insurance are the largest sectors of employment in Paris, and therefore the city's fintech sector is a strong pursuit for tech workers.
However, the city's biotech sector is also something to behold, especially for those working in the industry thinking about a change of scenery from impressive firms with IPOs to newer players such as Runlabs, a UK company due to open a brand new biotech lab and accelerator in Paris.
While the city already has established fintech and biotech industries, mathematician Cédric Villani's plan is to make France an AI leader. With such a tech scene, if you are looking to work or settle in Paris, here are the best coworking spaces to look at.
1. SERVCORP
Located in Level 2, 21 Boulevard Haussmann, there is undoubtedly something special about a Servcorp Coworking Space. They are places where employees thrive – a membership-based workspace where diverse groups of freelancers, remote workers, and other independent professionals work together in a shared, communal setting of 60,000+ people.
The combination of a well-designed work environment and a well-organized work experience are part of the reason why Servcorp Coworking clients seem to love the spaces. Servcorp gives their clients the space and support to be their authentic best selves. They provide access to a team of bilingual secretaries, ample meeting space easily bookable via an app, and color printing from any desk.
The quality services and digital advantages they provide ensure clients can focus on growing their revenue. If a client needs IT assistance, they simply dial *1 on their handsets and a local Servcorp IT expert will be right there to help. Happiness in business is simple IT solutions that work, a professional team to delegate to, and a community of like-minded visionaries to work with. Clients are welcomed by their teams across 160 locations around the globe.
Membership plan; membership at 49 Euros per month, hot desk at 299 Euros per month, dedicated desk at 399 Euros per month, office at 750 Euros per month.
For more information visit Website  |  Twitter 
2. COWORKSHOP
Located in 32 Rue des Vinaigriers, with a pay as you work concept, in Coworkshop you'll be able to work however long you want to. This is perfect for those working from home who just need a change of scenery. Aside from that, Coworkshop also has options for resident members, private offices or meeting rooms.
Their cafe like theme is different from the usual cafe scene because of how professional the space is built. All of which is without the constraints of a dull cubicle or noisy cafe ambience. Sure, there'll be chatter but instead of mundane aimless gossip, there's work based discussions which lead to work productivity!
Coworkshop is located near two major train stations so there'll be people from London, Brussels, Amsterdam or Berlin commuting to and fro. This gives the community a chance of widespread collaboration and coworking between young entrepreneurs, freelancers and students. Their casual yet professional atmosphere is a great space to work in while enjoying free wifi and complimentary coffee/tea. Stay to work! This is perfect for those who are mobile workers.
Membership plans; nomad package includes 4 Euros per hour, 20 Euros per day, 80 Euros per week and 220 Euros per month. Resident package at 1-6 months 360 Euros and 6+ months 345 Euros. Private offices at 1500 Euros. Meeting room for 4 people at 100 Euros a day and 20 Euros an hour, for 8 people at 150 Euros a day and 30 Euros an hour.
For more information visit Website  |  Twitter
3. DESKOPOLITAN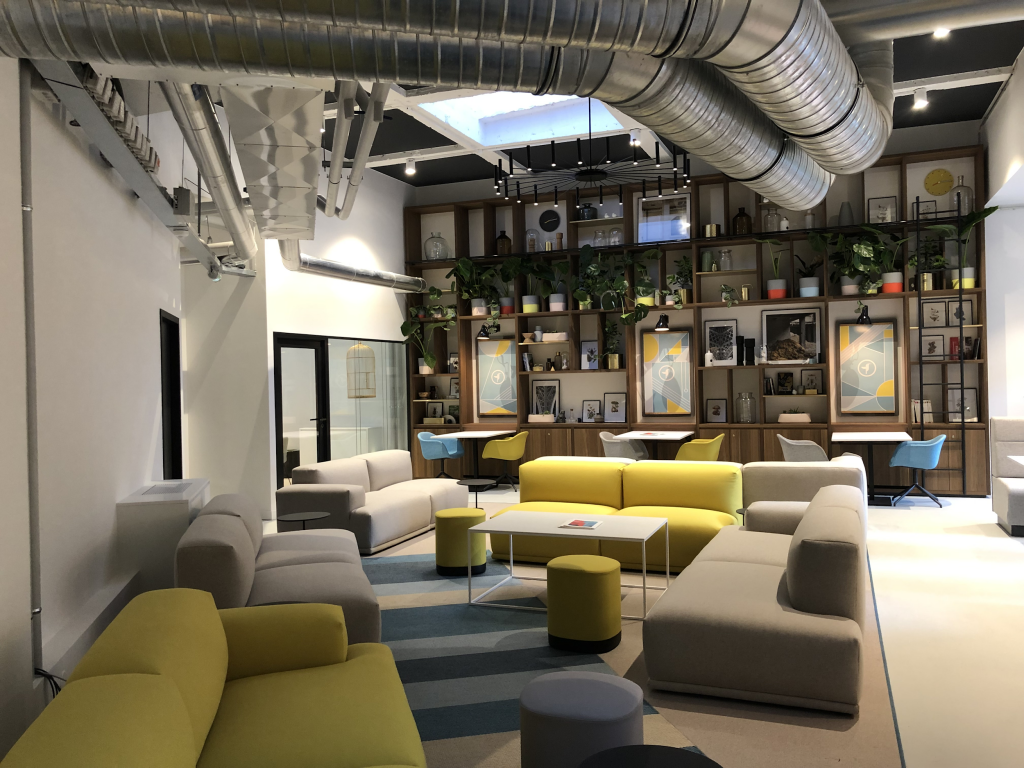 Located in 48 Rue du Château d'Eau, Deskopolitan is more than spaces to work, spaces to succeed. To do so, they have brought together in one spot all the ingredients that are essential to your success and fulfillment. They have another location in Paris Voltaire 226 boulevard Voltaire 75011.
Whether you are a start-up, a big company or a SMB; whether you are a CEO, an employee, a freelancer, or even a craftsperson; whichever your business sector is, joining Deskopolitan makes you part of a community that hoists your colors high: the love of hard work, friendliness, ambition, high standards, and authenticity.
You will quickly get to like the friendly energy that spreads through the spaces and makes you want to jump out of bed on Monday mornings. A work space where friendliness rimes with performance.
Sit down at your desk, they will take care of everything, they will take care of you. Choosing Deskopolitan is living a unique work experience. They developed a unique range of exclusive services to make your professional and your personal life easier. You, and your team will be more efficient, more creative, and more fulfilled.
Membership plan; open plan for dedicated desk at 550 Euros per month, Club plan for private offices with at least four desks available on request. Meeting rooms for 4 people at 5 Euros per hour, 6 people at 20 Euros per hour, 8 people at 30 Euros per hour, 12 people at 35 Euros per hour, Duplex at 30 Euros per hour.
For more information visit Website  |  Twitter 
4. WEWORK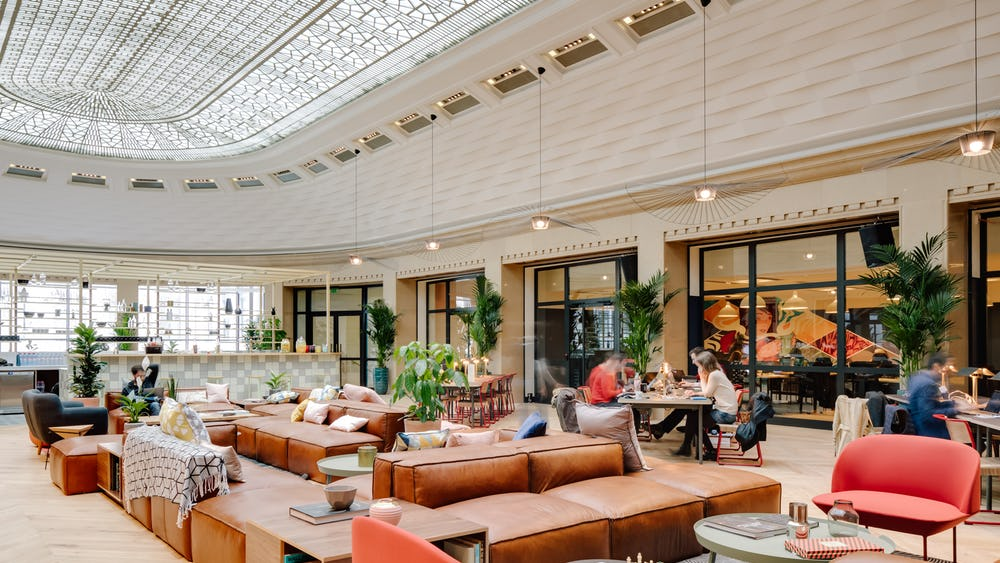 Located in 33 Rue La Fayette, in a stately Parisian building, WeWork La Fayette is six floors of 9th Arrondissement coworking space that's home to a vibrant community. Nestled just off the Grands Boulevards only a few blocks from Gare Saint-Lazare and the Opera Garnier, companies both small and large from a range of industries come together here to collaborate and create. A convenient location will make your commute a breeze—find Metro 7, 12, 8, and 9 nearby, plus several bus routes within walking distance. For lunch, many members pop over to Krêp or Le Petit Canard, but if you're looking for options for a classier team outing or client dinner, Les Saisons and Restaurant Le Saotico can hold you down. With so much to offer, WeWork La Fayette is workspace paradise.
They have different locations across Paris; 92 Av. des Champs-Élysées Paris, 75 75008, Coeur Marais 64-66 Rue Des Archives Paris 75 75003, 40 Rue du Colisée Paris 75 75008, 123 Boulevard de Grenelle Paris, 75 75015, 18 rue de Navarin Paris 75 75009, 5 Rue des Italiens Paris 75 75009,37 Avenue Trudaine Paris 75 75009,7 rue de Madrid Paris 75 75008, 255 Boulevard Pereire Paris 75 75017, 4 Rue Jules Lefebvre Paris 75 75009, 198 Avenue De France Paris 75 75013, 8 rue des Pirogues de Bercy Paris 75012, 67 Avenue de Wagram Paris 75 75017, 170 Boulevard de la Villette Paris, 75 75019.
Membership plan; hot desk from 470 Euros per month, dedicated desk from 580 Euros and private office from 890 Euros per month.
For more information visit Website  |  Twitter 
5. DIGITAL VILLAGE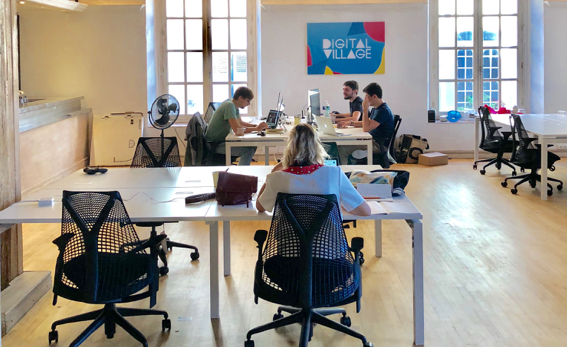 Located in 13 Rue Vandrezanne, Digital Village located just steps from the Place d'Italie and the Mayor of the 13th arrondissement. The premises are easily accessible by Metro Line 5 , 6 or 7 but also by Vélib or Autolib. Other locations include; ROISSY-EN-BRIE 6 rue antoine lavoisier 77680 Roissy-en-brie, TOULOUSE 24 boulevard de Strasbourg 31000 Toulouse, BORDEAUX 88 rue Judaïque 33000 Bordeaux,STRASBOURG 13 rue du Maréchal Foch, 67000 Strasbourg, and  MARSEILLE 18 rue neuve sainte catherine 13007 Marseille.
They have a productive working area and environment for all freelancers, all experts in digital business and creative projects.
The space gathers in one place, all the skills, to help you create your digital products, to teach about digital jobs, to assist employment and companies in their digital transition.
Digital Technology has become omnipresent and it is hard to find one's way through it. This is why Digital Village was imagined, the first place dedicated to digital only.
Not only do they accompany you on your business model, but have also created the first startup studio where entrepreneurs are being offered a production capacity to genuinely achieve their digital projects, thanks to our experts.
Membership plan; fixed desk at 350 Euros per month, nomad at 175 Euros and rooms for rental available upon request.
For more information visit Website | LinkedIn
6. LA RUCHE
Located in 24 Rue de l'Est., Paris, a collaborative coworking space under the umbrella of "La Ruche", situated in the east part of Paris (20th district) which attracts project leaders driven by social entrepreneurship, digital technology, crafts and culture. With the ambition to become the flagship of social innovation, it is the enclave connecting its coworkers to large companies and public institutions. A diverse array of individuals gather here from entrepreneurs to startups, freelancers and associations. The space offers solutions adapted to each worker within its numerous open areas, closed offices and stunning 200sqm terrace for swanning on.
If you join the La Ruche Partner Club you will have perks beyond the usual of super-fast wifi printing facilities, access to meeting rooms or a napping room if you have been burning the candle at both ends. La Ruche is home to 1000+ entrepreneurs, 125 projects per year, 75 Experts and has 8 spaces in locations; BORDEAUX,  MARSEILLE, SAINT-GERMAIN-EN-LAYE,  SAINT NAZAIRE,  MONTPELLIER, SANTERRE HIGH-SUM,   CASTELNAU-LE-LEZ.
The Partner Club will give you access to any of the La Ruche coworking premises, events and training sessions plus a national network of professionals to mingle with.
Membership plan; offices starting from 1000 Euros per month, formula full-time 350 Euros per month, formula half-time at 235 Euros per month, formula Quart-time at 150 Euros per month, they also offer formula full-time Company for companies at 500 Euros per month.
For more information visit Website  |  Twitter 
7. INTENCITY CLICHY
Located in 6 Rue d Estienne d Orves, a mere 3 minute walk from the metro Marie de Clichy line, Intencity Clichy 92 is for those that like to not just work on a computer, but who like to "tinker" and create things. This coworking space attracts startup clusters, independent freelancers and small companies, as well as craftsmen. This is where you can get very busy either at a desk in a shared coworking area or in a workshop, shared or private.
Spaces are available on a monthly basis so that you can test the water without having to sign a long commercial lease and you can set up camp here for as little as a month or as long as 2 years. Intencity has been going since 2006 hosting, advising and supporting projects in the startup and development phases, both on-site and off-site. It is all about sharing and equality with the business interests of everyone at the forefront.
The workshop area has high ceilings with plenty of natural light filtering in and storage racks to stash your goodies on. There are different surfaces available to work on plus trans-pallets and trolleys at your disposal for loading and unloading, as well as street access for a vehicle. You will be able to use the meeting room and the kitchen, so you won't be cut off from life's essentials. The doors to this area open 24/7 with electricity, heating and the Internet included in the price, as well as business support and mentoring delivered by Intencity staff.
Membership plan; office in a shared space at 250 Euros, shared workshop space at 400 Euros, individual workshop at 1400 Euros.
For more information visit Website  |  Email   
Whether you are looking for a job, your next co-founder or recruiting your tech talent, Tech Events is the place to be for all professional networking. Visit for more information about the events and how you can get more out of the experience and also get yourself a ticket to an event!
Website: Techmeetups.com  visit and treat yourself to a community of tech business events and support!
TechMeetups.com 8 years. 21 cities. 68 job fairs. 1100+ hiring companies. 60,000+ job seekers.