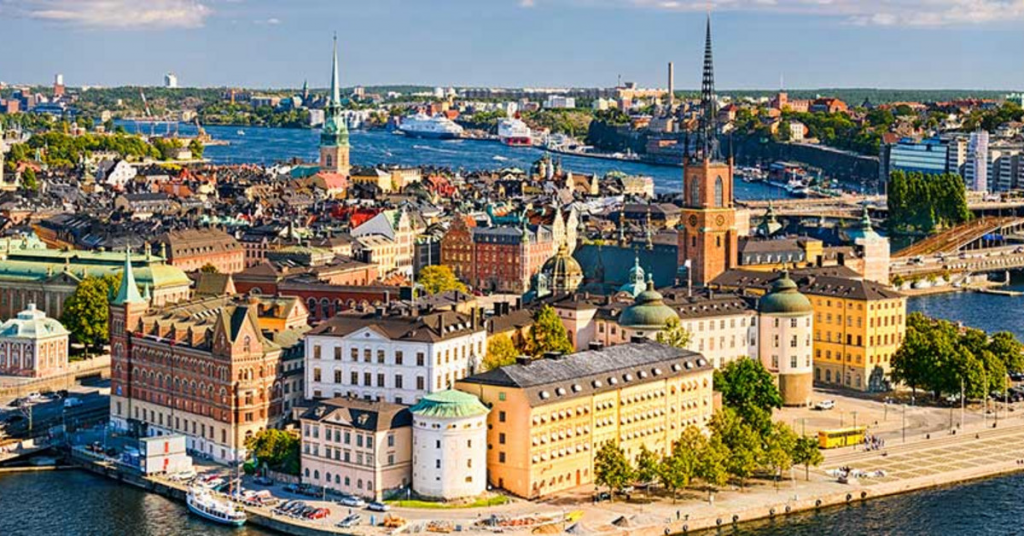 Stockholm is the cultural, media, political, and economic centre of Sweden. It is an important global city and the main centre for corporate headquarters in the Nordic region. The city is home to some of Europe's top ranking universities, such as the Stockholm School of Economics, Karolinska Institute and Royal Institute of Technology (KTH).
The Nordic tech scene has continued to grow stronger. Looking back from 2013 to 2017, Sweden has taken the second place in European venture capital (VC) investments. The new tech hubs like Stockholm has emerged as the international centre for technologies and innovations.
During the past several years, Stockholm has produced the most unicorns, i.e. billion-dollar startups, per capita in the world after Silicon Valley. The successful startups such as Spotify, Skype, King and Klarna, are leading Stockholm to become the billion-dollar startup from the North.
According to the data from The Nordic Web & Invest Stockholm in 2016, over $1,4 billion was invested in the tech companies located in Stockholm, which is a $500 million increase compared to 2015, and a 7X increase in just 4 years. Meanwhile, there was a total of $1,75 billion in exit value among Stockholm-based tech companies within one year.
The American company, PayPal bought Stockholm-based digital payments start-up iZettle for $2.2 billion, which is the biggest ever acquisition for this FinTech giant. In November 2015, Candy Crush maker, King was acquired by Activision Blizzard for $5.9 billion. Earlier, Mojang, makers of Minecraft, was bought by Microsoft for $2.5 billion. In 2005, eBay bought the Swedish telecommunications company, Skype for $2.6 billion. Then in 2011, Skype was bought by Microsoft for $8.5 billion, which is one of the largest takeover acquisitions in Microsoft's history.
As you can tell from these tech statistics, Stockholm is a tech power and if you are looking to set up shop, here are the best coworking spaces to visit.
1. IMPACT HUB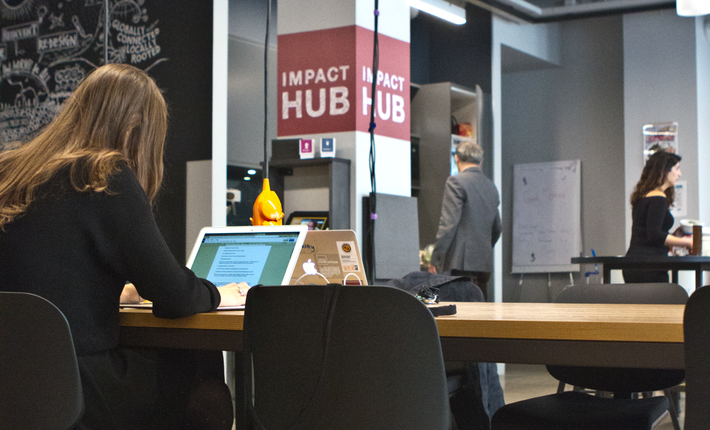 Located in 25 Luntmakargatan, Impact Hub is the world's largest network of social entrepreneurs. With over 17,000 members at 100+ locations spanning 5 regions across the globe, our mission is to enable entrepreneurial action for positive impact. You will find our Stockholm office on the ground floor of the famous Sveavägen 44 business centre downtown – right by Hötorget metro station and Urban Deli where you can grab a great lunch on the go. In the summertime, you can access our rooftop garden to relax in the sunshine.
Impact Hub has been operating for over a decade, and we take pride in the close-knit community that we have fostered over the years. With us, you'll grow your network with Stockholmers from all over the world who are in the business of doing good.
Changemakers. Entrepreneurs. Impact Hub is a global community of passionate people. Their coworking space is a meeting place for businesses that put people and planet first. It's your home away from home. Here, you have access to our unique ecosystem of resources, inspiration and collaboration opportunities to help you grow the impact of your business.
Membership plan; Global connect at 190 SEK per month, Newbie at 990 SEK 20hrs per month,  StartUp at 1990 SEK 64hrs per month, Nomad unlimited at 3490 SEK and social Impact unlimited at 3190 SEK.
For more information visit Website | Facebook | Twitter 
2. KUNGSBRON BY CAFE&CO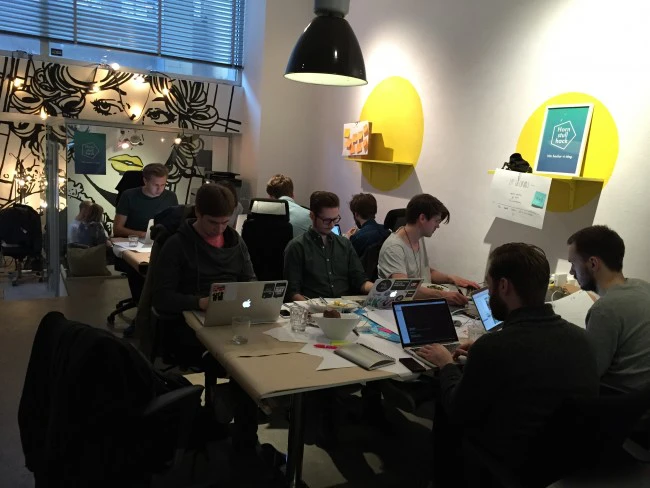 Located in 23 Kungsbron, Co-working space with a café. Creative and living atmosphere, great co-workers and Stockholm's best coffee. This coworking centre promotes entrepreneurship and cross-fertilizing across different competences.
Everyone is welcome here, whether you're looking for a spot to focus on your work at hand or if you're looking for business contacts and new opportunities. There are 20 coworking seats, 3 meeting rooms and a café. Since the café is open for the public and anyone can rent a coworking seat for the hour or for the day, you'll always meet new people at Café&Co. That's why it's known as the "The creative hub of Stockholm".
Café & Co is a social meeting place for entrepreneurs and entrepreneurs. We gather coworking, café, conference, events and networks. Meet in our bright, modern and centrally located premises.
Since 2015, we have combined the best of three worlds. The relaxing atmosphere of the cafe, a functional way of working and an inspiring environment where people love to meet.
Membership plan; a hot desk at 1450Kr per month, a flex desk at 2700Kr per month and a Fast Place at 8000Kr per month.
For more information visit Website |Facebook | Twitter
3. BLOCK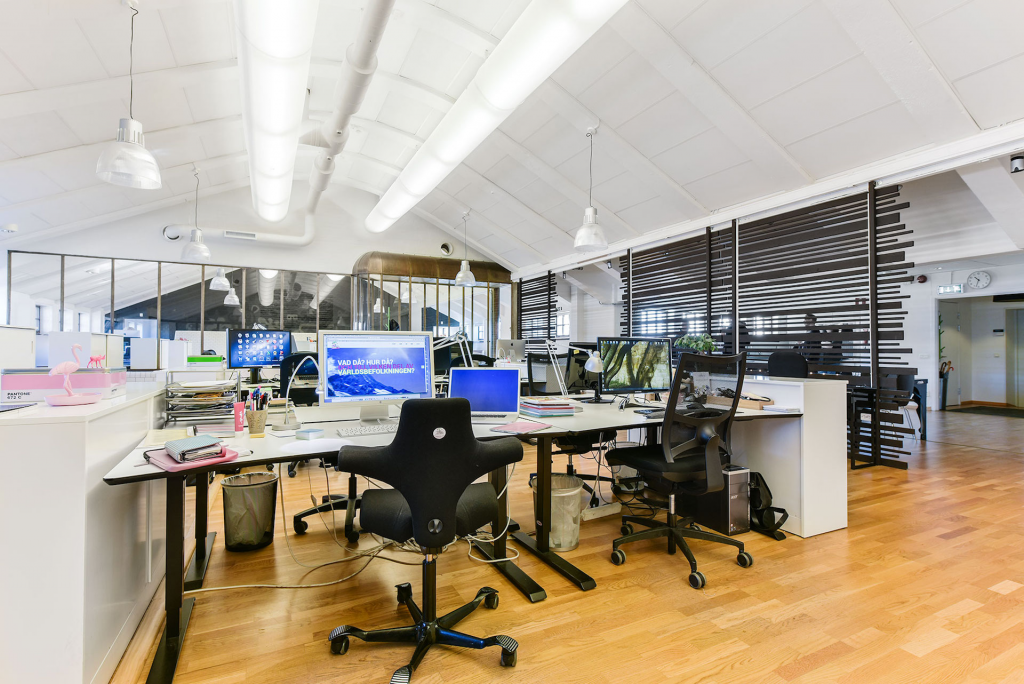 Located in Top floor, 6th, Åsögatan 115, 6 trappor, Block Stockholm coworking office space is in Söder's best location
Welcome to a unique cooperative workspace in one of the best locations in Stockholm. A bright office loft of some 530sqm, overlooking the rooftops of SoFo, the creative heart of Södermalm.
Rent office space where you can make things happen with fellow creatives. Block Stockholm is the Swedish capital's top co-operative workspace with a great location in the creative heart of Söder. Block Stockholm is ideal for creatives, with a variety of hot-desk and fixed spaces to choose from.
Most of the members sit in two large open rooms. But we also have some smaller rooms for one to four people. There are different big places, depending on your needs. Fixed places from SEK 3,700 to SEK 5,100 per month. Flexible space for SEK 2,900 per month.
Membership plan based on table space; Large at 5,100 Kr, Medium at 4,500 Kr, Small at 4,000 Kr and Extra small at 3,700 Kr.
For more information visit Website | Facebook
4. REGUS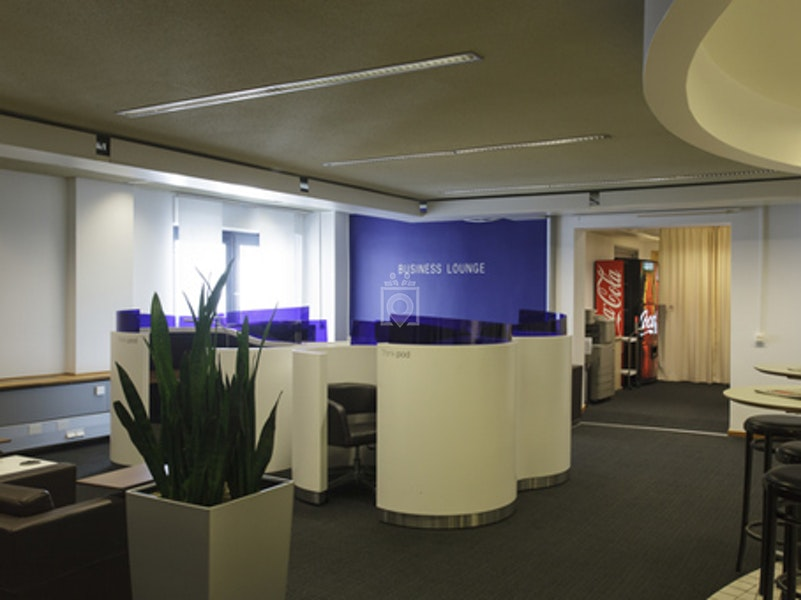 Located in 9/E Ringvägen 100, Stockholm, The Regus Ringvagen 100 coworking space / business centre is located at the heart of the central Stockholm district of Södermalm in a building with marvellous cityscape views. It is situated on the ninth floor of an office development that boasts a fantastic modern aspect, including an eye-catching glass entrance and atrium.
Cityscape sights include the iconic Globe sports and music venue and the beautiful waters of the Årstaviken bay, while the Regus Ringvägen's strategic position next to major roads and close to an underground train station gives good access to all parts of the city. The space benefits from modern heating and cooling systems, ground-floor eating facilities and a parking garage adjacent to the property.
The space has an App which makes access to all services easier, REGUS APP .
For pricing, membership and more information visit Website | LinkedIn
5. NORRSKEN HOUSE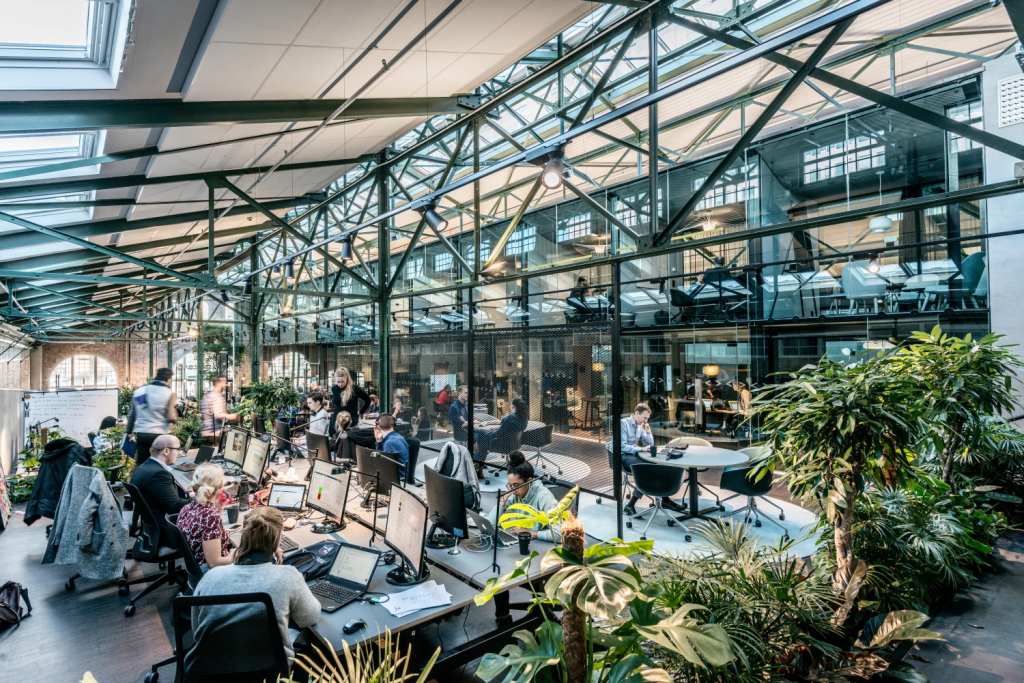 Located in Birger Jarlsgatan 57C Norrsken House is a 2400m2 creative cluster for more than 325 entrepreneurs, solving society's biggest challenges and 117 companies
Norrsken House is an office space for entrepreneurs with a vision to make the world a better place. With a vision to create an environment that supports these entrepreneurs to do as much good as possible.
It is a safe space, the place you go when restlessness strikes and you can't keep your ideas in your head anymore. The sort of place where you will hear more yes and's and what if's and where the sky most definitely is not the limit.
Every task needs its space. As a team you need a place to gather, while working on your own you need somewhere to focus. Meetings need privacy, presentations need screens and great ideas need a stage. They've built a co-working space for every occasion, and oh, nothing is extra.
The place you spend most of your time needs to be functional, adaptable and not least – beautiful. It starts with the building itself – Norrsken House is built inside one of the grand halls of an old tram station. The masonry, steel beams and railroad tracks going in the front door are all over a hundred years old, while the workplace itself is state of the art.
Starting a business is often a path riddled with hurdles, failing and learning, soaring highs and looming lows.
To make your path a bit smoother, a whole host of companies and organizations are backing the Norrsken community with knowledge and resources. It can be anything from legal advice, to gym discounts, accounting, software or a nice price on a pair of good headphones. Everything helps, right?
For more information and membership plans visit Website | Facebook | Twitter
6. DA APPY PLACE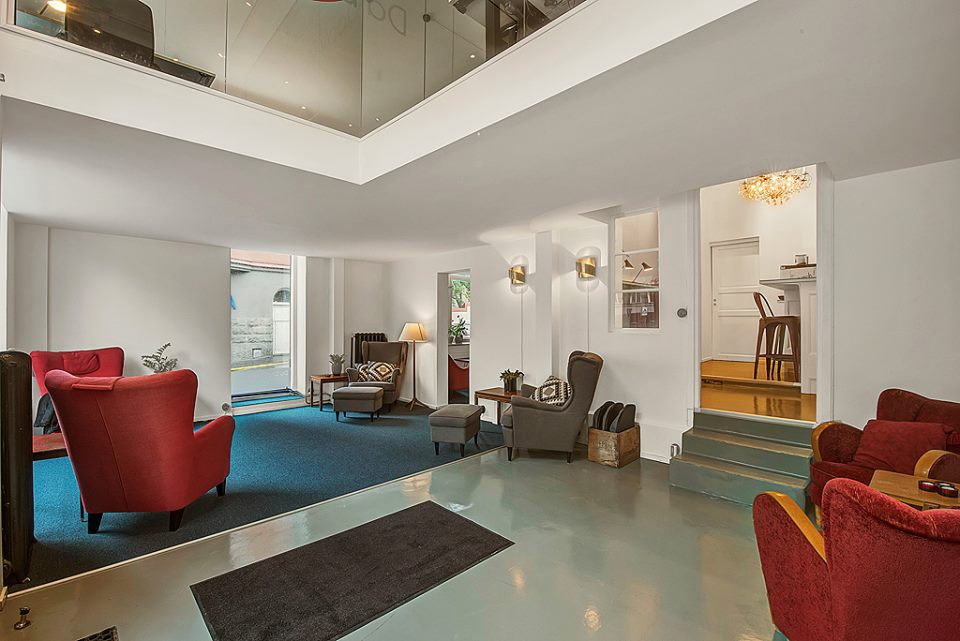 Located in 97 Sankt Eriksgatan, a business network and cooperation space in Vasasstan Stockholm, the founders believe in strong relationships combined with a fun and rewarding work environment.
Here success is measured by doing what you want, when you want, where you want, with whom you want and as much as you want.
You will find a comfortable environment with ergonomic workplaces in a stimulating atmosphere amidst people who will mentor you on your adventure. The fact that there is plenty of great free-flowing coffee and homemade cookies to munch on, is a bonus.
Located in an old laundry on the ground floor at Sankt Eriksgatan 97, the venue is easy to access from both the nearby subway and airport buses. In the surrounding area you will find plenty of enticing restaurants to pop into, a gym for when you need to exercise your muscles and plenty of shops to trash your credit card at.
A membership in Da Appy Place is not for everyone…. They hand pick people who want to join and build industry-wide networks and who are generous with contacts, inspiration and knowledge.
Contact us on 08-595 00 400 or email at [email protected] and talk further. You are also welcome to have a cup of coffee to see their fine premises on Sankt Eriksgatan 97.
For more information visit Website
7. COVENDUM
CONVENDUM establishes modern and effective coworking spaces and venues, on AAA-locations of large cities Central Business Districts. CONVENDUM provides premium offices combined with activity-based coworking areas, lounge, conference centre, restaurant, café, health club, music studios and showrooms.
CONVENDUM is a meeting and communication platform where companies can grow and develop through interaction and exchange of knowledge. Our focus is to get our members to succeed in their business, through high-quality service in an efficient environment. As a member of CONVENDUM you have access to a concierge, cafe, deli, restaurant, gym, wired and wireless Internet access and daily breakfast.
For more information visit Website| Facebook |Instagram|Linkedin
Whether you are looking for a job, your next co-founder or recruiting your tech talent, Tech Events is the place to be for all professional networking. Visit for more information about the events and how you can get more out of the experience and also get yourself a ticket to an event!
Website: Techmeetups.com  visit and treat yourself to a community of tech business events and support!
TechMeetups.com 8 years. 21 cities. 68 job fairs. 1100+ hiring companies. 60,000+ job seekers.