Original post by Kristina Martic via TalentLyft
This list of 2019 recruiting trends should be your guide for improving your recruiting strategy. 2019 will bring a new set of recruiting trends that will significantly impact your recruiting process. Are you ready to implement these new recruiting trends or will you be left behind?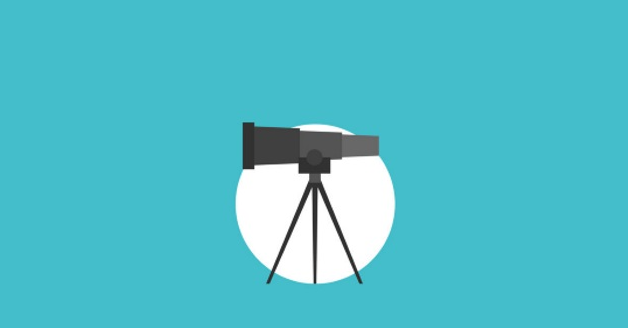 Intro
Importance of implementing new recruiting trends in 2019
In terms of recruitment trends, 2019 will bring a fresh set of recruiting trends that will significantly impact your recruiting process. Are you ready to implement them or will you be left behind?
We bring you the 15 top recruiting trends for 2019 that you need to start implementing ASAP, otherwise, you will end up being the loser in the war for talent before the year ends!
It's a candidate driven market out there
The way we recruit has changed. Compared to just a few years ago, candidates now have far more power during the job search.
According to research and every recruiter and HR professional everyday work experience, the current job market is 90% candidate driven. That means you don't pick talent anymore. Talent picks you.
Consequently, finding and hiring ideal job candidates, especially those with in-demand skills, has become an extremely hard, expensive and time-consuming.
That's why there is a major shift going on in recruiting paradigm. The focus is now on candidates, who are being treated like customers.
The change of paradigm brings a whole new set of buzzwords and new recruiting trends. We highlighted 15 most important among recent trends in recruiting that will have the greatest overall impact on the recruitment industry in 2019.
Top recruiting trend no. 1: Recruitment Marketing
What is recruitment marketing?
Recruitment marketing strategy is based on the implementation of marketing tactics in recruiting. Recruitment marketing is the process of nurturing and attracting talented individuals to your organization using marketing methods and tactics.
The importance of recruitment marketing
Recruitment marketing is a discipline that has been introduced as a consequence of the current situation in the labor market. Its main goal is to follow the latest trends in the market and offer solutions to the companies that best overcome these new challenges. Companies that first adopt these new recruiting best practices will be more likely to attract talent. This is why Recruitment Marketing will be at the sole top of the recruitment trends 2019.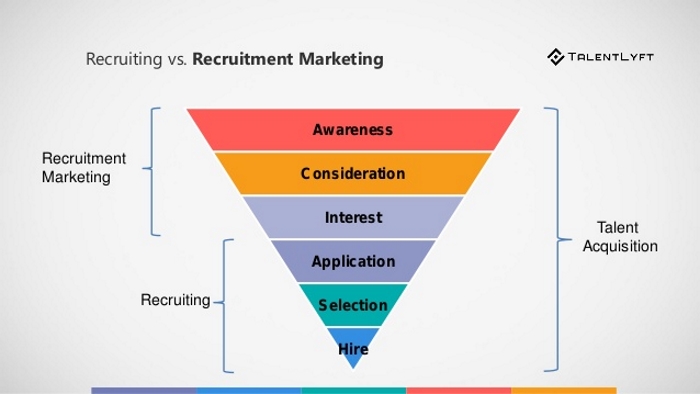 Top recruiting trend no. 2: Inbound Recruiting
What is inbound recruiting?
Inbound Recruiting is a recruitment marketing strategy where you proactively and continually attract candidates with the goal to make them choose you as their next employer. Your goal in inbound recruiting is to attract, convert and engage candidates.
The importance of inbound recruiting
Lately, there has been a switch from outbound to inbound recruiting. Simply reaching out to the candidates and offering an open position is not the way to attract talent anymore. If you are looking for a long-term solution to advance your recruiting and hiring strategy, inbound recruiting is the recruitment trend you should adopt.
Top recruiting trend no. 3: Employer Branding
What is employer brand?
Employer brand is the term commonly used to describe an organization's reputation and popularity as an employer, and its employee value proposition, as opposed to its more general corporate brand reputation and value proposition to customers. Employer branding ideas are essential for building a strong and attractive employer brand.
The importance of employer branding
Research by LinkedIn has proven that more than 75% of job seekers research about a company's reputation and employer brand before applying. Companies with a bad reputation not only struggle to attract candidates, but they also struggle to retain employees. This is why employer branding is one of the top recruitment trends of 2019!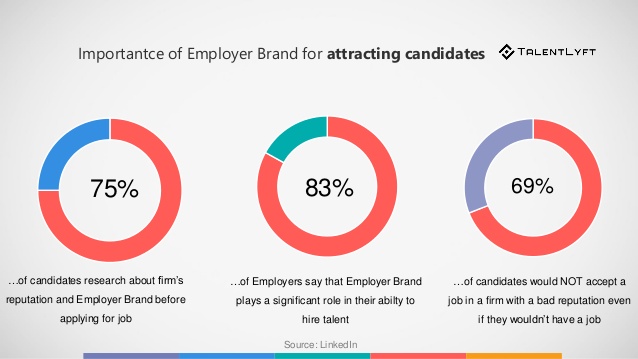 Top recruiting trend no. 4: Candidate experience
What is the candidate experience?
"Candidate experience" is current, past and potential future candidates' overall perception of your company's recruiting process. It is based on candidates' feelings, behaviors and attitudes they experience during the whole recruiting process, from sourcing and screening to interviewing, hiring and finally onboarding.
The importance of candidate experience
Why is paying attention to your candidate experience another extremely important recruitment trend you should adopt in 2019?
Because candidates who had a positive candidate experience in your recruiting process will more likely accept your job offer, reapply in future and refer others to your company.
On the flip side, a negative candidate experience can cost you more than a few candidates – it can even lose your company big bucks! The most famous example of this is the case of Virgin Media, a company who calculated that a bad candidate experience costs them a shocking $5.4 million annually!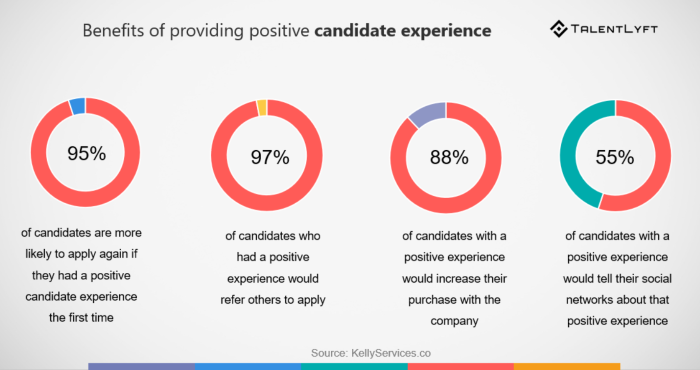 Top recruiting trend no. 5: Talent pools
What is a talent pool?
Talent pool refers to a place or database where recruiters and HR Managers keep all of their top job candidates. Talent pools make not only candidates that have applied for jobs, but also sourced, referred candidates, silver medallists and candidates that have willingly joined your pool in an inbound way.
The importance of talent pool
Imagine if every time you had a job opening, you had a pool of talent from which you can just pick the best one! Sounds great, right? This is the reason why many recruiters have already adopted this recruitment trend and started building a high-quality candidate database for current and future needs.
Top recruiting trend no. 6: Candidate Relationship Management
What is candidate relationship management?
Candidate relationship management (CRM) is a method for managing and improving relationships with current and potential future job candidates.
The importance of candidate relationship management?
Having a strong candidate relationship management has quickly become one of the top 2019 recruitment trends. This relatively new method of recruiting was introduced to the world of talent acquisition as a solution to one of the biggest challenges in the HR industry – attracting talent.
Top recruiting trend no. 7: Social Recruiting
What is social recruiting?
Social recruiting is using social media channels for recruiting. The term refers to different ways of using social media networks (such as Facebook, Twitter, LinkedIn etc.) and websites (blogs, forums, job boards and websites like Glassdoor for example) to find, attract and hire talent.
The importance of social recruiting
Social recruiting goes beyond posting current vacant jobs ads on your company's social network accounts. It offers so much more! You can use social media networks to proactively search for potential candidates, build a relationship with them and encourage them to apply for your vacant job positions. Because of all the possibilities it offers, Social recruiting has become one of the top 2019 recruitment trends.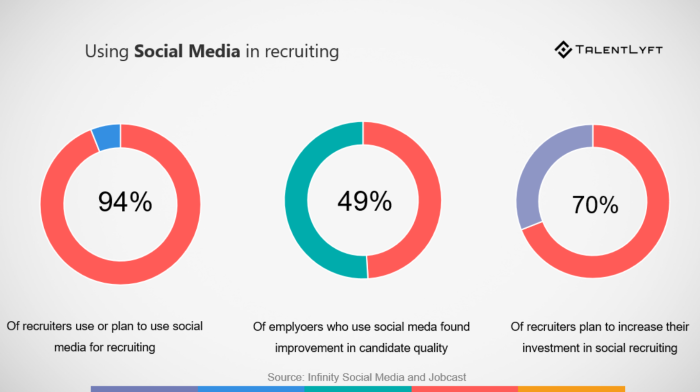 Top recruiting trend no. 8: Recruitment automation tools
What are recruitment automation tools?
Simply put, recruitment automation tools are software that use new technology to automate recruiting process. Automation of recruiting process has been around for a while, but now it will go beyond HRIS, Applicant Tracking System (ATS) and Recruitment Marketing Software. The new trend is software that offer 2 in 1 tools – integrate both ATS and Recruitment Marketing solutions under one platform.
The importance of recruitment automation tools
These new all in one tools offer help in finding, attracting, engaging, nurturing and converting candidates into applicants. They also streamline, simplify and automate hiring process, making it faster and more efficient. Those organizations that have up till now been too slow to incorporate automation into their recruitment systems are in danger of losing the best candidates to their more forward-thinking competitors. This is why using recruitment tools is successful recruiters' favorite recruitment trend!