Famous for its art and architecture, Barcelona is the capital and largest city of the autonomous community of Catalonia.
Barcelona is one of the world's leading tourist, economic, trade fair and cultural centres, and its influence in commerce and the arts all contribute to its status as one of the world's major global cities.
In the past couple of years, it has seen an immense coworking growth in its startup scene with amazing events going on every day.
Professionals from all kinds of industries come here to network and meet other like-minded individuals that will help them form strategic partnerships for their businesses and projects. Check out Techmeetups for any tech services and upcoming events in Barcelona.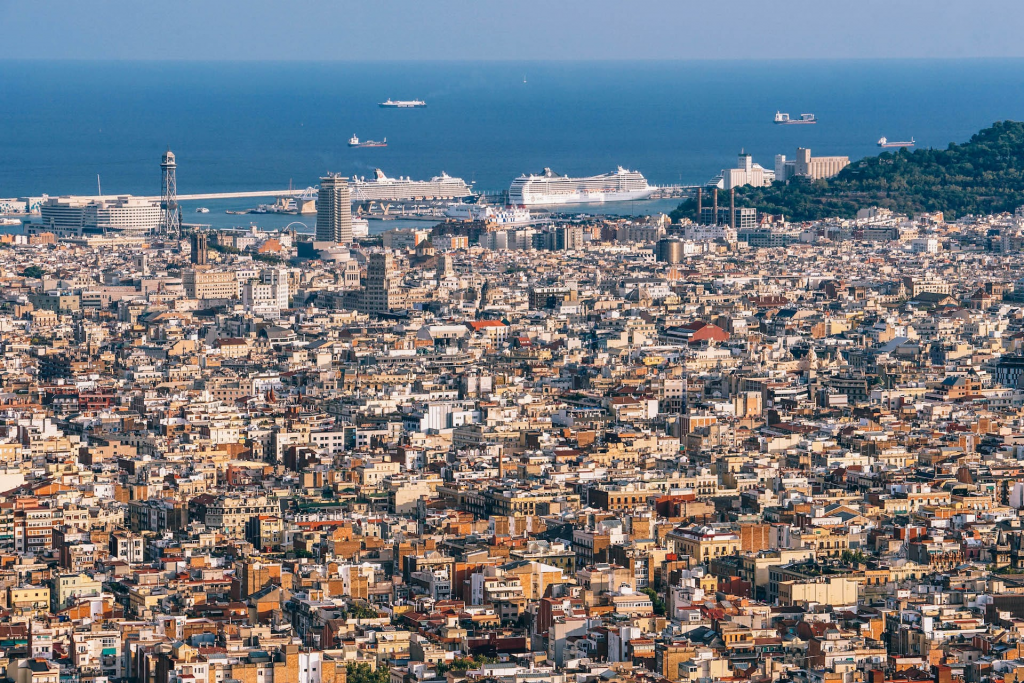 1. CLOUDWORKS SAGRADA FAMILIA 
This is the best place for networking. With a community of 400 people, collaborations and creating partnerships comes so easily. It affords enough space across six floors to ensure that all your professional needs are met. A hot desk goes for 90 Euros a week and 185 Euros a month, they also have a daily package of 20 Euros.
Address: Carrer de Sardenya 229, 4th Barcelona.
Website: https://wearecloudworks.com/es/ubicaciones/sagrada-familia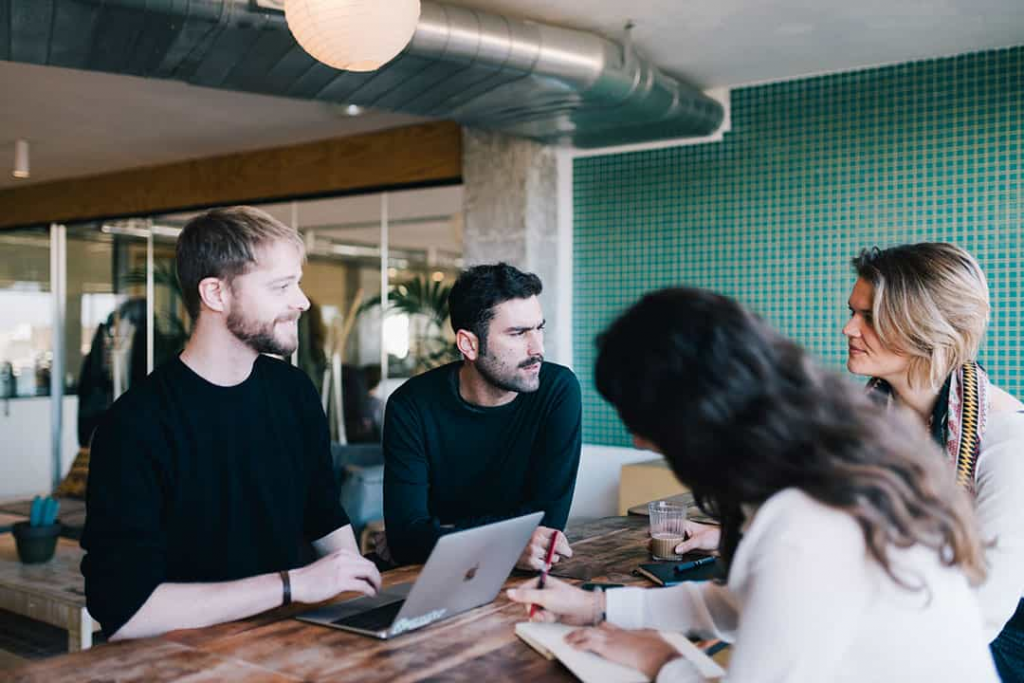 2.ESPAI BORN
Espai Born is a multidisciplinary space designed carefully by interior designers creating an atmosphere that inspires creativity and fosters the development of new projects. Diligently crafted since day one, beginning with hours and days of tirelessly scraping out 20 tons of garbage to clear out the space, Espai Born has been nurtured with such love and care that can only be 100% pure passion and devotion. Membership runs for 10 Euros a day and 99 Euros a month for a hot desk. A dedicated desk is 149 Euros a month.
Address: Carrer Vigatans 11, Barcelona
Website: http://www.espaiborn.com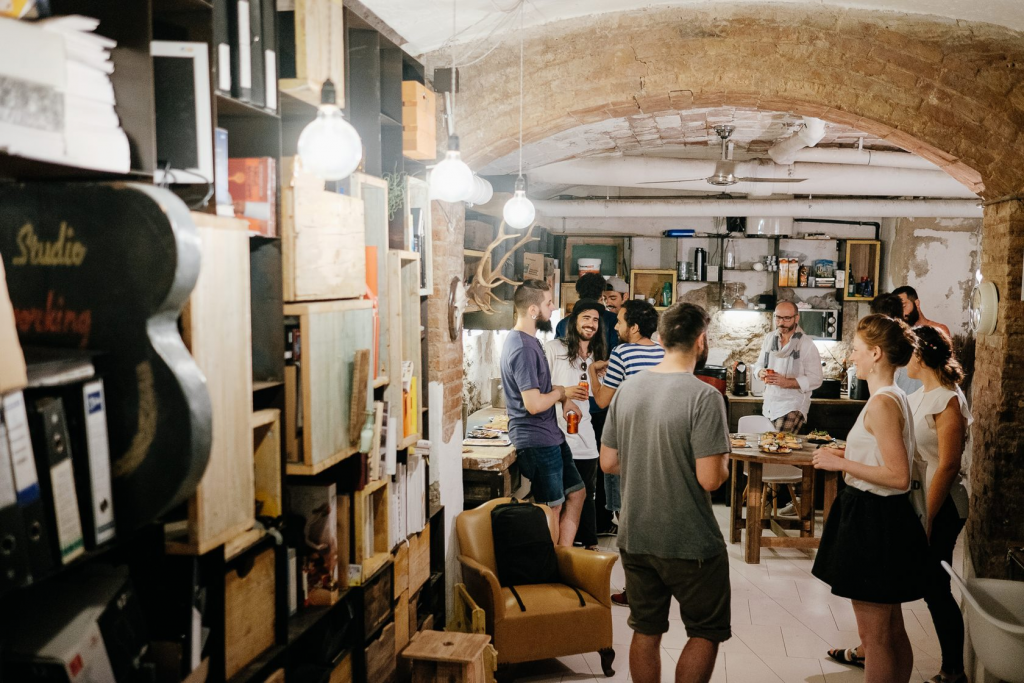 3. COWORKIDEA
CoworkIdea is a chic and modern coworking space in Barcelona. With its modern and unconventional style, it will definitely appeal to independent professionals, working nomads and remote workers out there. With its pallet desks and chalk wall, this is not exactly your usual office space, it has personality and style. Membership goes for 20 Euros a day and 90 Euros a month for hot desk. A dedicated desk is at 220 Euros a month. A private office for 6 people is at 1200 Euros.
Address: Carrer de Torres i Amat 21,1 Barcelona
Website: https://coworkidea.com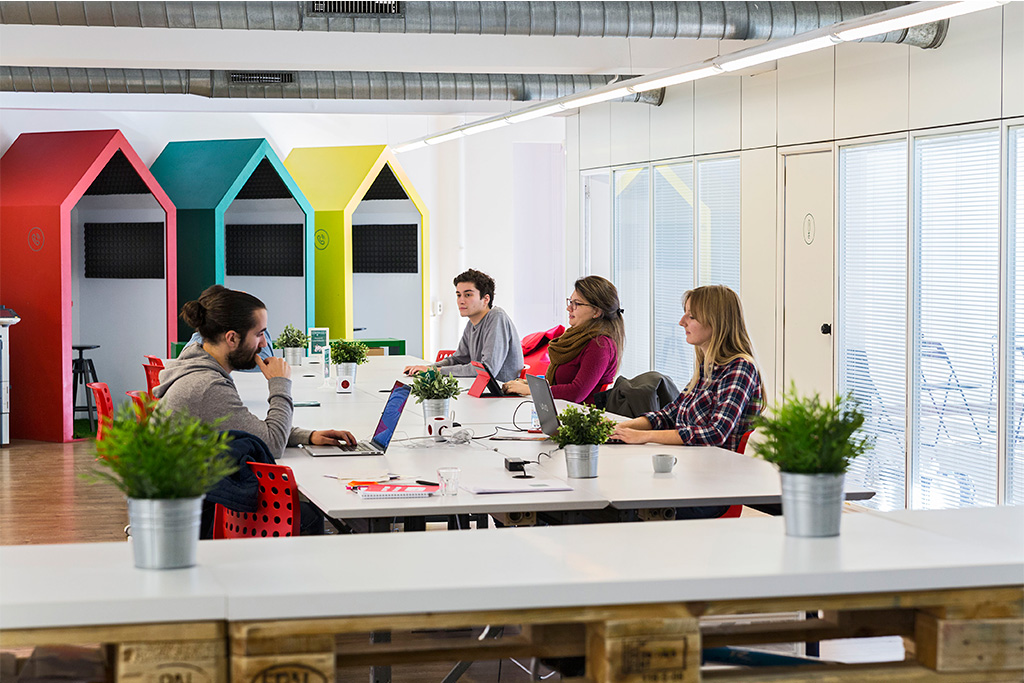 4. NEST CITY LAB
"Our mission in Apocapoc is to imagine, create and offer sustainable spaces that inspire its members to live a more eco-conscious and fulfilling life. Our philosophy relies on the vision of free interconnected human beings, in a life long learning process, that reach their maximum potential through the practice of sustainable daily habits. Our spaces aim to create paths that facilitates the hike towards this vision" Membership plan; hot desk at 17 Euros a day and 147 Euros a month. A dedicated desk is at 247 Euros a month. A private office for 16 people is at 3477 Euros a month.
Address: 100 Carrer d'Alaba, Barcelona
Website: https://www.apocapocbcn.com/en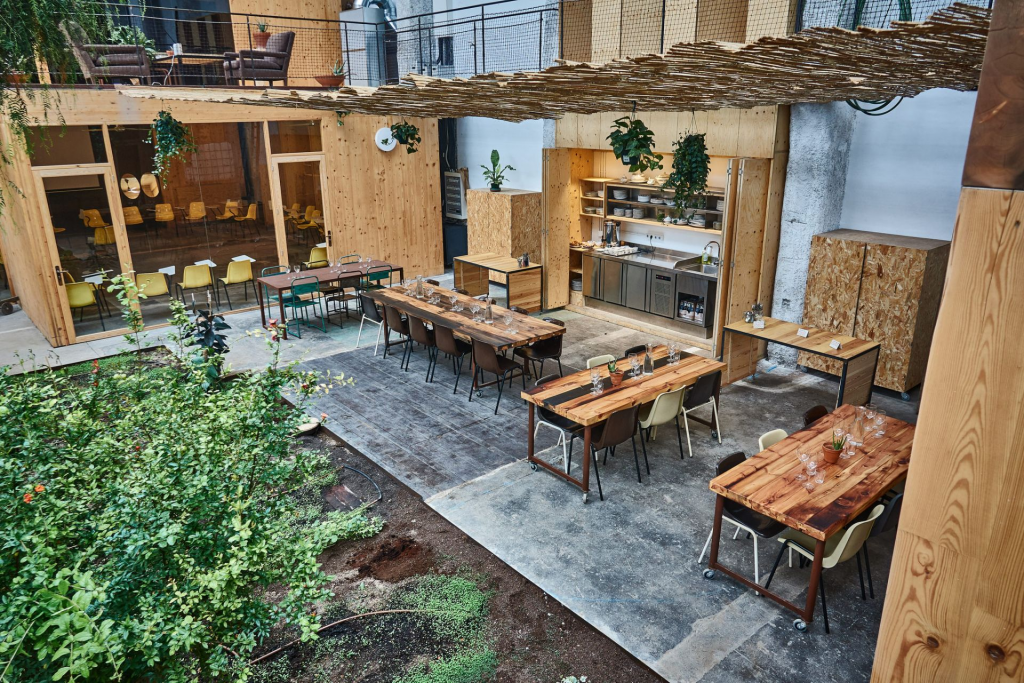 5. BLITZ COWORKING
Thinking about a change in your day to day work pace? Or perhaps a change of environment in general? Brace yourself for coworking in Blitz! Discover the benefits and joy of coworking in a space amplified with positive energy. There's much for you to do and see at Blitz Coworking where everyday is a fresh experience. You will have access to a large community of tech talent. Blitz coworking membership plan; hot desk at 200 Euros a month, half a day either morning or afternoon at 90 Euros a month.
Address: Carrer Ca l'Alegre de Dalt, Gracia, Barcelona
Website: https://blitzgracia.com
6. LA VACA COWORKING
An original coworking space in a unique place like an old "Vaqueria" in the heart of Poble Sec. At La Vaca we've transformed a former dairy shop into the Coworking that it is today. A community of freelancers, entrepreneurs and digital nomads from all over the world. A space that has cafe-chill vibes where you'll find different spots to work in. A hot desk plan; 15 Euros a day favourable for digital nomads, 65 Euros a week and 150 Euros a month. A dedicated desk is at 190 Euros a month.
Address: 1 Carrer de la Creu dels Molers, Barcelona
Website: https://www.lavacacoworking.com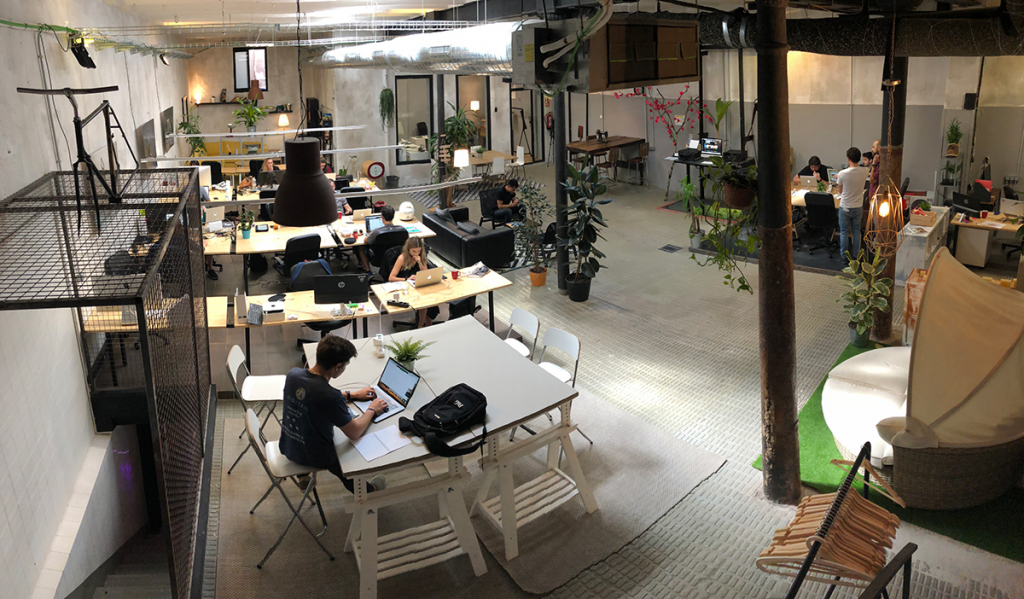 7. MAKERS OF BARCELONA (MOB)
With more than 400 entrepreneurs, techies, innovators, MOB bailen is one of the three spaces of MOB, a creative hub in the heart of Barcelona, home of the city's first community of entrepreneurs & creatives. Since the opening of its first space in 2011, MOB has been supporting entrepreneurs by offering them the infrastructures, connections, training, advice and business opportunities that they need to kickstart and grow their business. Membership starts at 15 Euros a day and 65 Euros a month for hot desk, a dedicated desk at 190 Euros a month. A table of 4 people at 695 Euros, an office at 240 Euros a month.
Address: 11 Carrer de Bailen, bajos, Barcelona
Website: https://mob-barcelona.com/coworking/
8. BETAHAUS
A flexible home for professionals to get their stuff done, Betahaus is a coworking space for freelancers, entrepreneurs, startups and businesses who are over trying to work alone from a home environment or finding a table in the local cafe with iffy Wi-Fi. Coworking memberships are flexible and affordable giving you 24/7 access to keep a smile on the faces of workaholics. Memberships; a hot desk at 179 Euros a month, a fixed desk at 199 Euros a month and an office at 249 Euros a month. They have a daily pass for 9 hours at 15 Euros and a weekly pass for 45 hours at 50 Euros.
Address: 7 Carrer de Vilafranca, Barcelona
Website: https://www.betahaus.es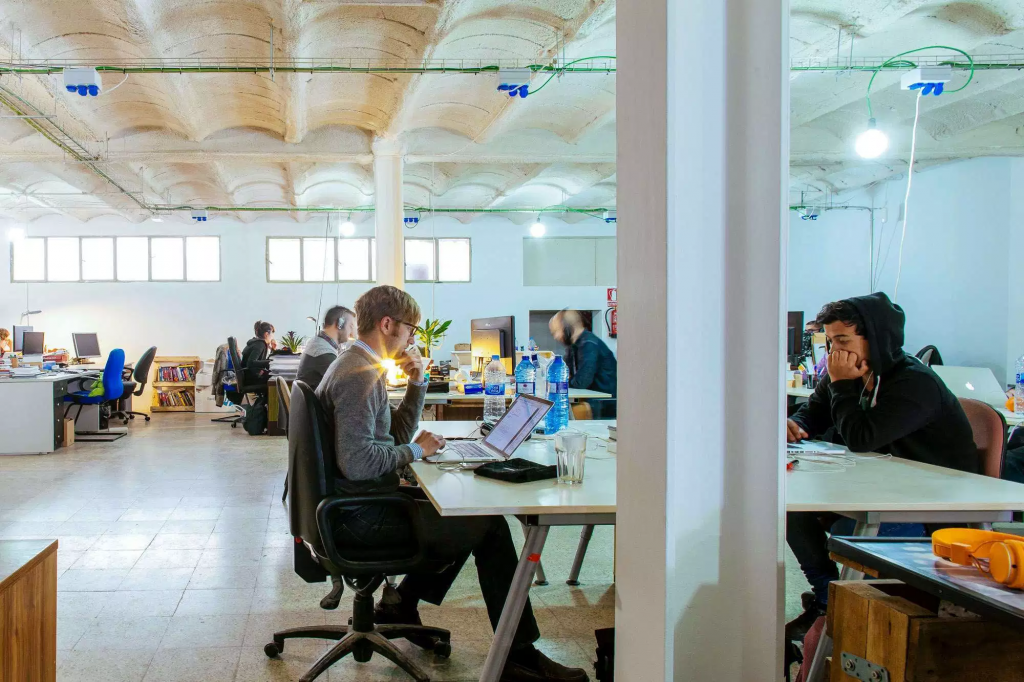 9. ATICCO URQUINAONA
More than a workspace, Aticco has a community of more than 800 coworkers making this space a center of creation, innovation and productivity. Aticco offers unrivaled service facilities and solutions for freelancers, entrepreneurs, startups and companies. You will be able to focus on your business and grow as a professional, whilst the mundane administration of running an office is totally taken care of. Located in a 1000 square meter penthouse overlooking the whole city, Aticco aims to make your life and the running of your business a whole lot easier, so that you can sit back, relax and create. Membership plan; flexible desk at 250 Euros a month, a fixed desk at 349 Euros and a private office at 399 Euros. A day pass at 45 Euros, a weekly pass at 125 Euros.
Address: Ronda sant Pere 52, Atico, Barcelona
Website: https://aticco.com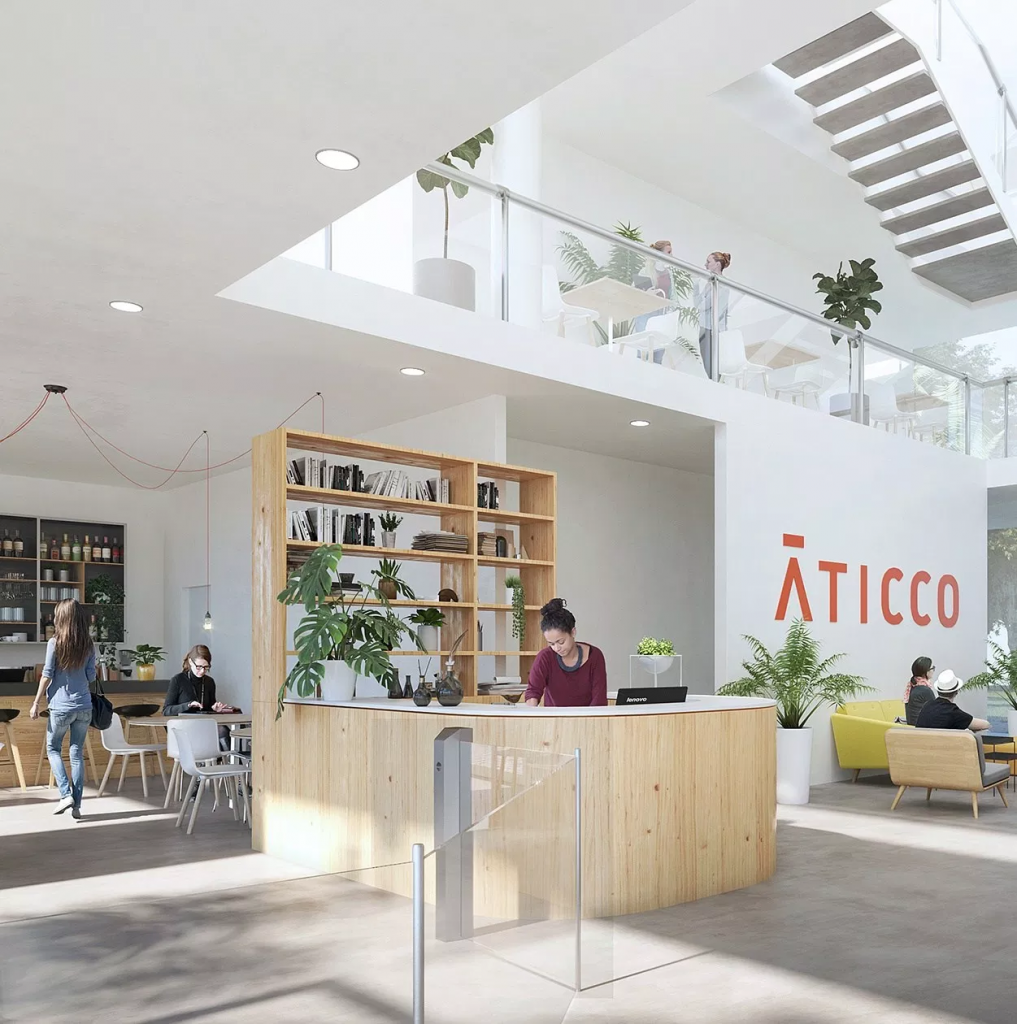 10. WEWORK GLORIES 
Sitting proudly on nine full floors of a gleaming glass building at the junction of two of Barcelona's busiest thoroughfares, WeWork at Plaça de les Glòries Catalanes is a coworking space for winners. This neighborhood is a hub for companies focused on technology and innovation, but our convenient workspace welcomes businesses of all sizes,no matter their pursuit. With onsite parking and a mere three minute stroll to both the 6 and 7 buses and Metro Glòries, your commute is simple. Membership plan; hot desk at 250 Euros a month, fixed desk at 350 Euros per month and private offices at 1000 Euros per month. Wework has other workspaces in Carrer de Pallars , Ciutat de Granada, Diagonal 444 and Passeig de Gracia
Address: Luxa C / Tánger – Badajoz, Barcelona
Website: https://www.wework.com/buildings/glories–barcelona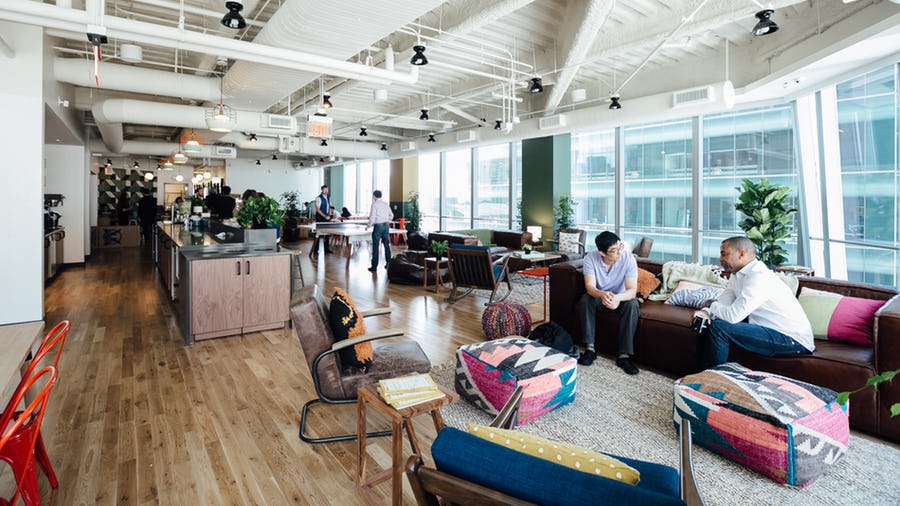 11. DEPOT LAB BARCELONA
Depot Lab Barcelona offers a space for entrepreneurs, freelancers, and startups to meet, work, grow their business and get inspired. Coworkers have the opportunity to network with like-minded people, share their ideas, and be a part of our international community. Its a growing ecosystem based on the exchange of ideas and experience, in which entrepreneurs connect with each other and the world – all in the heart of Barcelona.
Address: C / del Bruc 149 – Barcelona
Website: https://www.depotlabbcn.com/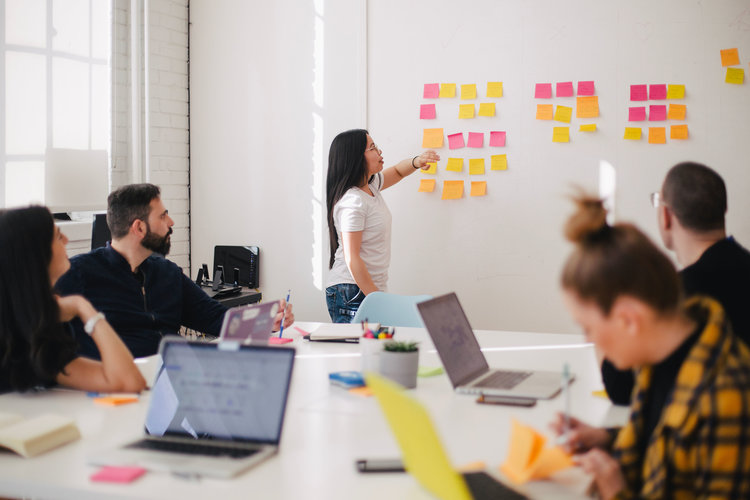 Whether you are looking for a job, your next co-founder or recruiting your tech talent, the Barcelona Job Fair  is an event to attend on Thursday 17th October 6 pm. Visit Techmeetups.com   for more information about the event and how you can get more out of the experience and also get yourself a ticket!
Website: Techmeetups.com  visit and treat yourself to a community of tech business events and support!
TechMeetups.com 8 years. 21 cities. 68 job fairs. 1100+ hiring companies. 60,000+ job seekers.