The co-working company's CEO says the contest is a gesture of goodwill but may also help attract more customers.
Unlike most startups, WeWork Cos. doesn't seem to struggle with raising money. Soon it'll start spreading some of its cash around to smaller startups, partly in the hopes of luring them to become WeWork customers.
The New York-based co-working giant said it'll give away $20 million in cash prizes to entrepreneurs and small businesses in a series of competitions called the Creator Awards. Adam Neumann, WeWork's chief executive officer and co-founder, said the contest will serve as a way to celebrate reaching 100,000 members, who pay to rent desks and offices alongside other startup creators, freelancers and other professionals.
While $20 million is a lot for the average startup, the privately held WeWork had about $650 million in cash on hand as of last July, Bloomberg reported at the time. It's also held preliminary talks recently with SoftBank Group Corp. to raise more. WeWork is among an elite group of unicorn startups, those with valuations of at least $1 billion, that can afford doling some of it out. Slack Technologies Inc., which makes business chat software, formed an $80 million venture fund in 2015 to invest in startups built on its platform.
In WeWork's case, the company won't take equity or ask for repayment from the startups it gives money to, Neumann said. "We're doing this to give back," said the 37-year-old CEO. "We're not doing this as a loan. We're literally giving this."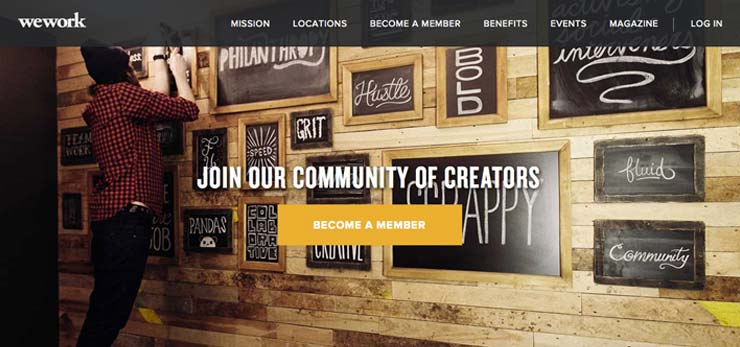 As another apparent gesture of goodwill, WeWork will give a free year of its We Membership to anyone who fills out an application to enter the competition. A membership usually costs $45 a month and includes $50 in monthly room-booking credits and access to the WeWork online social network. The offer has the added benefit of getting WeWork in front of potential new customers. "Of course, everything we do is always good for WeWork," Neumann said. "But that's our philosophy. We believe giving is receiving. We believe that in taking care of everyone, we're going to take care of us."
The feel-good startup contest will kick off this month in Washington. Businesses at various stages of maturity will compete for grant money in front of a panel of judges—some from WeWork, others from the local startup community. Members and non-members of the co-working space are welcome to apply online, and the company will select some entrants to present live at one of seven events around the world.
The competition will eventually make its way to Detroit; Austin, Texas; Berlin; Tel Aviv; and Mexico City. The finals will be held in November at Barclays Center in New York, home to the Brooklyn Nets. San Francisco was purposefully left out of the mix, Neumann said: "It's an example of a city with a lot of awards shows."
Great post by Ellen Huet via https://www.bloomberg.com
We help Startups through Events like Meetups, Workshops, Hackathons, Job Fairs, Events Promo and also have www.techstartupjobs.com to help you recruit your tech team. 
Explore Techmeetups events in Berlin, Paris, London, Barcelona, Amsterdam, New York, Vienna, Lisbon, Madrid