Please note that this event is not free and you need to purchase a ticket from:  http://bit.ly/UXconfLondon
The User Experience Design Conference in London bringing designers, developers, business stakeholders, researchers and marketing specialists together.
The theme of the conference on February 21st 2019 in London is designers and marketing, helping businesses grow. We've invited amazing speakers from Conde Nast, Booking.com, Monzo, Canonical, Ocado, ThomasCook, Which?, Virgin Atlantic and others. The event is organised by The School of UX. Any questions – just email us at [email protected].
For more details please visit theuxconf.com. Watch highlights video from our September 2018 conference.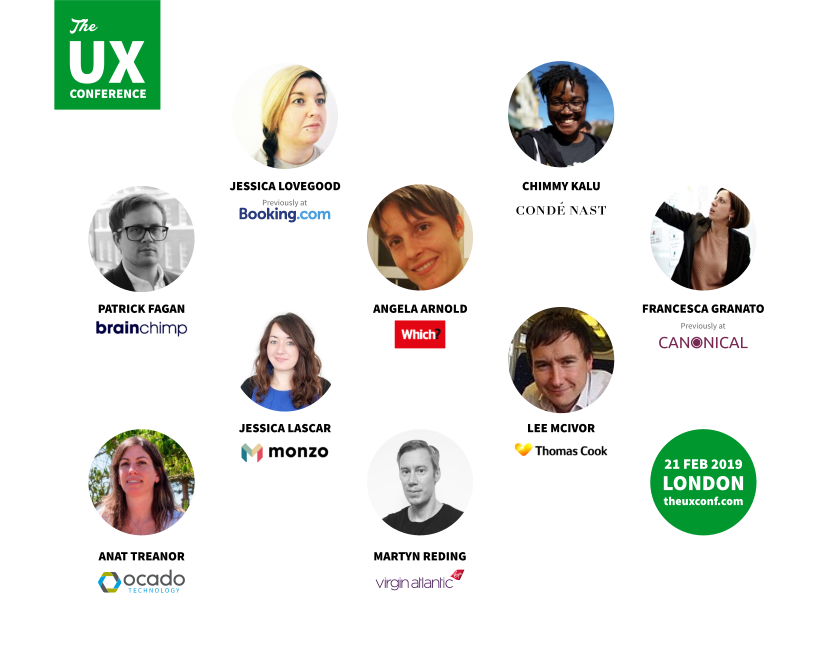 What's On in February 2019:
09:30–10:00
Registration
10:00–10:35
Growing a Business with UX, but Not Chasing Money
Jessica Lovegood
previously at Booking.com
10:45–11:20
Breaking Out of the UX Bubble
Chimmy Kalu
Condé Nast
11:30–12:05
How to Target UX to Different Psychographics
Patrick Fagan
Brainchimp
12:10–13:10
Lunch break
13:15–13:50
UX & Marketing in Reviews
Angela Arnold
Which?
14:00–14:35
UX & Marketing in Operating Systems
Francesca Granato
previously at Canonical
14:45–15:20
UX & Marketing in FinTech
Jessica Lascar
Monzo
15:25–15:55
Coffee break
16:00–16:35
UX & Marketing in Travel
Lee McIvor
Thomas Cook
16:45–17:20
It's not you, it's UX
Anat Treanor
Ocado Technology
17:30–18:00
UX & Marketing in Airlines
Martyn Reding
Virgin Atlantic
Venue:
The conference will run at Tobacco Dock on Wapping Lane, St Katharine's & Wapping, London E1W 2SF. It's a 5-minute walk from Wapping overground or Shadwell DLR stations.

What Our Guests Say:
We've successfully run The UX Conference in London for the past 3 years and had plenty of happy guests. Watch highlights from our previous conference.
"Great speakers, nice size and location I had a really good time and learned a lot. It's probably the most productive conference for me this year. It was very well organised!"
★ ★ ★ ★ ★
Nikita Chong
Senior Software Developer, SAP
"The conference was very impressive. I have been relying many of the discussion points at work this week. Some very insightful and useful experiences shared."
★ ★ ★ ★ ★
Finn MacLean
Lead UX Designer, Warner Music Group
"Great day at #TheUXConf! As a student it was inspiring to immerse myself in the UX world with peers and experts."
★ ★ ★ ★ ★
Stuart Arnott
MSc HCI Student, UCL
"It was a fantastic conference. Learnt heaps and was a lot of fun. Everything started on time and really liked the panel discussions. Great to hear different point of views."
★ ★ ★ ★ ★
Karen Chen
Graphic Designer, Freelance
Questions, speaker proposals, sponsorship, partnership?
Just email us at [email protected].