Work for Deutsche Bank in Technology, Data and Innovation
About this Event

Deutsche Bank Open Evening – Driving an Engineering Culture – From FS to Tech
Deutsche Bank is the leading German bank with strong European roots and a global network. The bank focuses on its strengths in a Corporate Bank newly created in 2019, a leading Private Bank, a focused investment bank and in asset management. more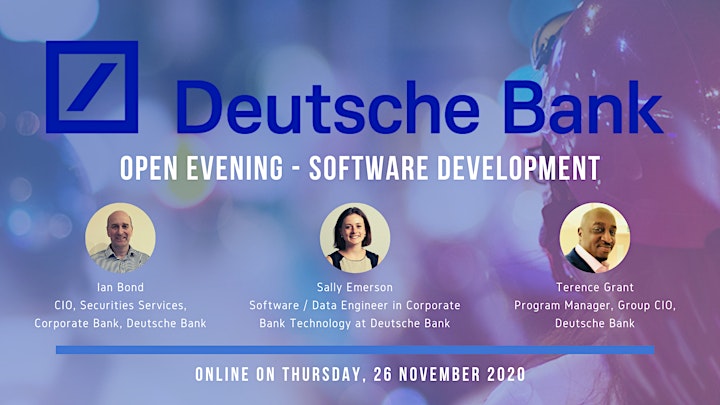 Jobseekers Audience: IT professionals in London and Birmingham, England/United Kingdom (UK)
Online via Techmeetups Zoom from 18:00 (GMT)
Agenda:
'Deutsche Bank, TDI, Our future tech plans' – Ian Bond & Sally Emerson
'Join TDI; Our culture – be part of TDI growth' – Terence Grant
Q&A session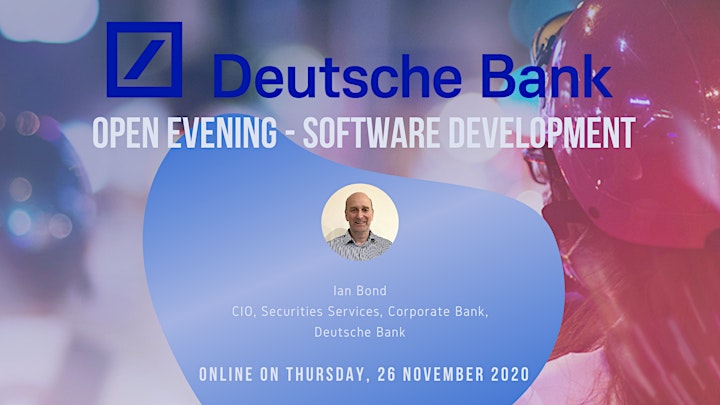 Ian is CIO of Securities Services in the Corporate Bank at Deutsche Bank. Originally and still a Java developer by heart, Ian has 20+ experience in financial services technology in global banks across Investment Banking, Wealth Management and Transaction Banking…
Ian's current interests are in the use of Search, Microservices, Streaming and Distributed ledgers mixed in with Agile principles and practices in the transformation of traditional financial services.
He has previously spoken at the QCon Software Development Conference in London and at the ISSA Symposium in Switzerland. When not busy at work he can be found building PCs on the kitchen table or trying to learn enough Python to help or maybe hinder his kids with homework.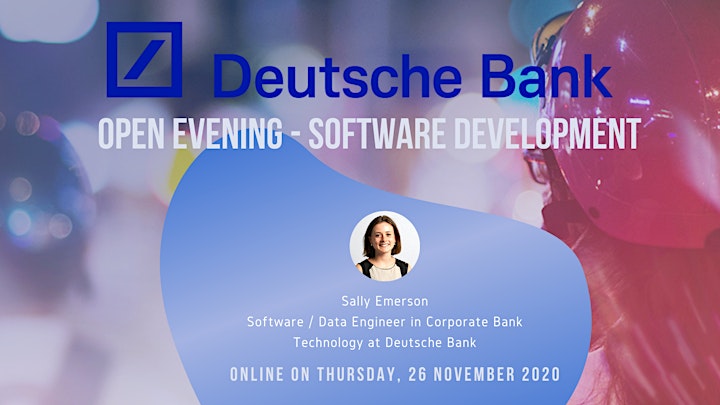 Sally is a Software / Data Engineer in Corporate Bank Technology at Deutsche Bank. She joined in 2019 on the Technology Graduate Programme.
Currently, Sally is working on applying Machine Learning on real-time data using ElasticSearch and Kafka. In her free time, Sally volunteers in education projects and trains for endurance triathlons.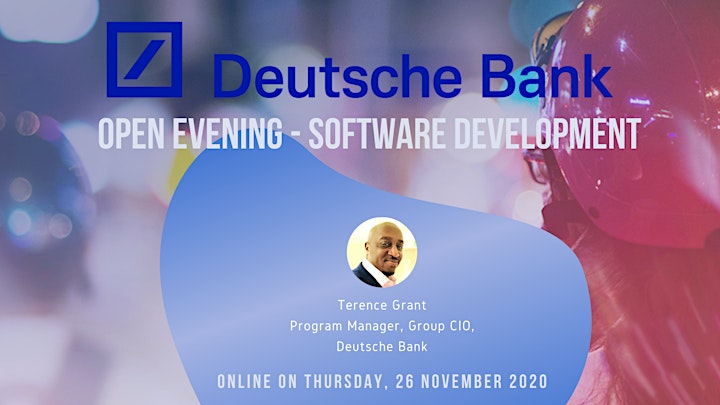 Terence is a Program Manager in the Group CIO area of Deutsche Bank. He has been at the bank for almost 4 years. Currently delivering an overall program looks at Digital Compliance Archiving, Data Analytics, Automation and the adoption of cloud technology in this actual space.
Terence has a technical background as an engineer and architect in large corporate messaging systems, instant messaging, eDiscovery, compliance and surveillance technologies.
Terence has a wide and varied experience working for a number of banks before joining DB including RBS, HSBC, Barclays, Nomura, Bank of Tokyo Mitsubishi and Credit Suisse. Outside work Terence loves to travel, loves music, football and food (a bit too much in lockdown!) and spending time with family and friends.
My mission statement and what I have learned in all the organisations and in the past 20 years or so …. "Feel the fear and do it anyway….."
What to Expect on Our Event
On the event day:
Driving an Engineering Culture – From FS to Tech discussion
Work for Deutsche Bank in Technology, Data and Innovation
A Q&A session
After the event:
The Employer Recruitment Pitch will be shared with job seekers
The job seekers list is shared with the hiring company
Hiring company can start to engage registrants for the first Interview
We want to meet YOU! JOB SEEKER REGISTRATION – FREE ADMISSION (IT professionals)If you love technology and you're looking for a job, you're in luck.
NOTE: We check job seekers registrations to make sure they are accurate and authentic. We can cancel your participation if we find false or misleading information.
The employer can decide to contact you after the event for an interview and possibly hiring. The employer decides whether to interview or hire the best candidate for their qualifications. Techmeetups does not guarantee to job seekers any interview or hiring from any company.
TechMeetups is all about YOU so come along, join us and let's connect to form a truly global tech community!
Let us know your need, and we'll let you know how we can help at [email protected]