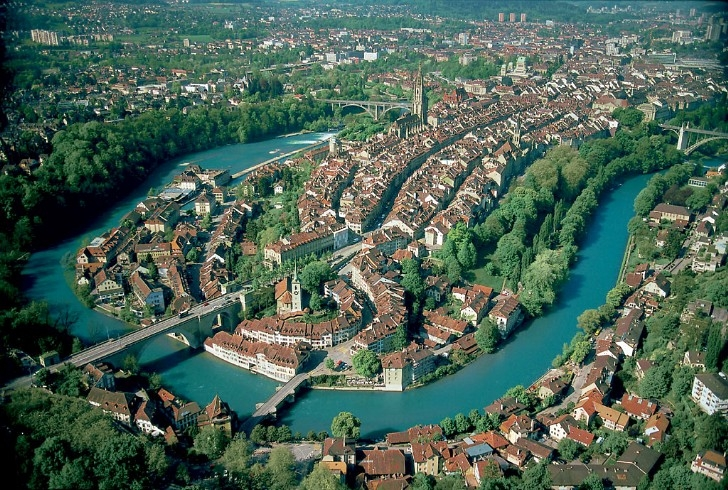 Switzerland's largest industrial region, the Canton of Bern, has become a high technology hub driven by innovation.
While highly specialized small- and medium-sized enterprises are the backbone of the economy, many multinationals and Japanese companies have successfully established a presence in Bern.
With a tradition of mechanical, electrical and precision engineering, many Bern-based companies have contributed to Switzerland's world-famous medical technology and watchmaking industries.
The Bern Economic Development Agency is a one-stop shop for startups and companies that are looking to locate or open a subsidiary in the Canton of Bern and grow their business. The agency provides all the important information, useful contacts, comprehensive initial advice and expert support in the search for the ideal premises, completely free of charge.
A perfect setting, the Canton of Bern offers businesses an ideal environment for innovation, with access to a highly qualified workforce and many opportunities to work closely with universities and other research institutions such as the Swiss Federal Laboratories for Materials Science and Technology (part of the Domain of the Swiss Federal Institutes of Technology (ETH)) and the University of Bern.
There are also numerous knowledge and technology transfer platforms in Switzerland, including Switzerland Innovation Park Biel/Bienne, the Swiss Smart Factory and the Swiss Institute for Translational and Entrepreneurial Medicine (sitem-insel), where the latest developments and findings in research and science join forces with the proven experience of local businesses.
If you are looking to set up shop, connect with like-minded entrepreneurs or work in Bern, here are 5 coworking spaces to check out.
1. URBANFISH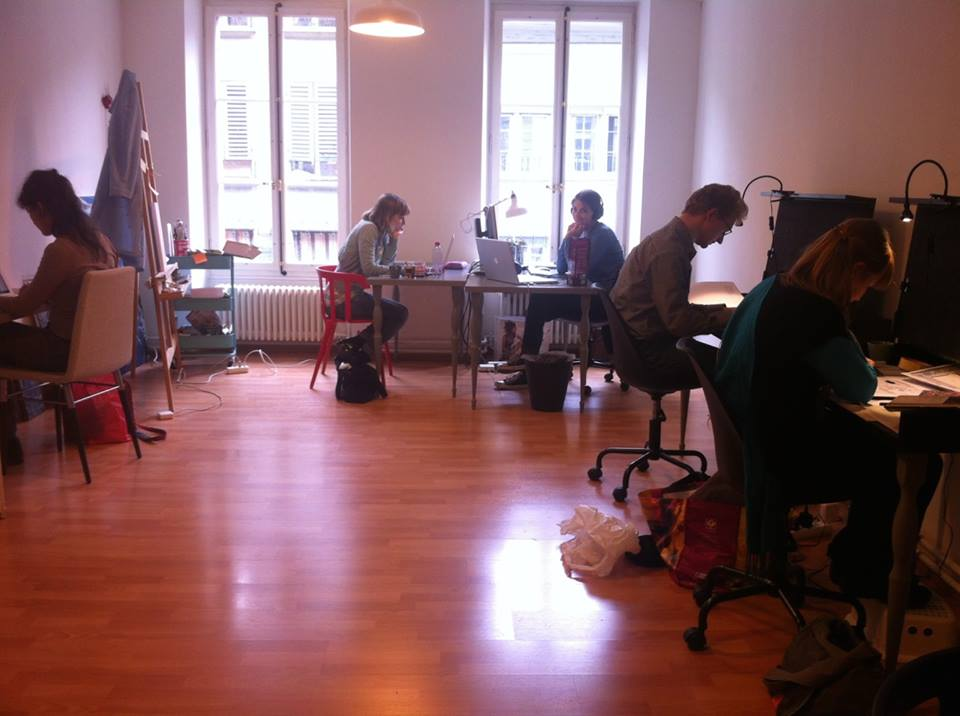 Bring your rabbit or goldfish, have a ciggy in the courtyard contemplating the spiraling smoke, sprawl out on a lounge to thump on your laptop, find a job, collaborate with your cohort over a caffeine fix in the cafe; it is your space and your place. Urbanfish does not discriminate against those that need extra elements for creative inspiration whether it is animal, mineral or vegetable, just so long as you invade their vibrant coworking space.
Ok, the website is in German, but if you can't read it then translate it. Open from 9am to 6pm Monday to Friday, Urbanfish allows you to have the weekend off. Sitting in the center of Bern, the doors are wide open and welcoming to all individuals of freelancing, entrepreneurial, student and artist creed, that need a space to perform their miracles.
From cozy corners to cultivate mind blowing ideas to designated desk space to buckle down and put on the chains, Urbanfish gives you alternatives to let your mind soar in creativity or to do the necessary drudgery in a stimulating dream sharing space. You can network as much or as little as you like, or play with your pet rat if that is where your brain is leading you for inspiration. This is where you can step out of your shell and collaborate or share with like-minded individuals in a friendly community.
Sharing ideas or hugging them close, but always amidst like-minded souls that crave a space of creativity in the heart of the old town of Bern where in-house events will have you excited, whilst out in the world the old town will seduce you with its provincial laid-back charm and UNESCO World Heritage Site status.
Membership plan: Flex desk at 250 CHF a month, Fix desk at 600 CHF a month, Virtual office at 80CHF and a daily pass at 30CHF.
Find Urbanfish on Website | Facebook | Twitter
2. WORK CENTRAL BERN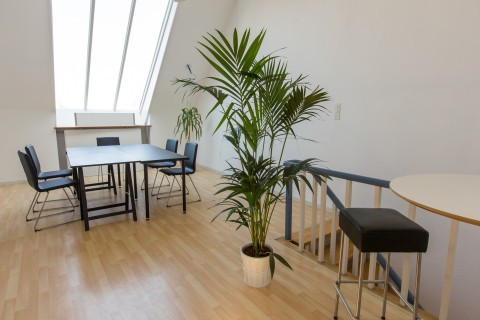 More often than not, a positive environment is a great influence towards your work productivity. Now, if you feel that being cooped up in your home, an office cubicle or a pricey cafe just isn't doing it for you anymore, it's time to move out. Get to Work Central Bern where the convenient location gives you access to surrounding amenities and it's a great space with all things essential to positive outcomes.
Located in central Bern, only two minutes away from the Bern railway station, you can access the space with ease. With two floors of coworking, meeting and event space, Work Central Bern is where you'll be able to get work done, hold a brainstorming team session and network or have fun. The space is accommodating for coworking. Natural lighting during the day, wooden flooring, and open plan spacious work areas makes Work Central Bern prime. Facilities include high speed fiber optic internet, Nespresso coffee and much more.
A community who understands that work requires individual focus, you'll be free to work at your own pace and when you've got the extra time, engage with fellow coworkers for much social balance. There's always a chance of serendipity in the atmosphere as like-minded individuals constantly share skills, experiences as well as ideas. With this, you'll experience collaborations alongside various professionals from a wide array of industries. Expand your horizons and go beyond just work.
Membership plan: Team rooms at 1300 – 1700 CHF, workplace at 500CHF per month, Mail address at 50CHF and meeting rooms at 190CHF.
Find WCB on Website | Facebook | Twitter
3. BUSINESSPOINT BERN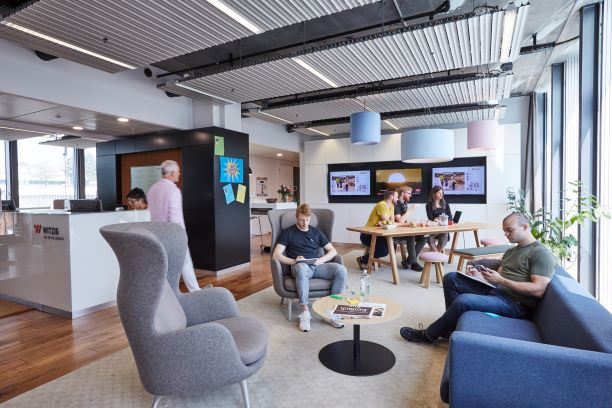 BusinessPoint in the train station Bern. A place of superlatives, not only for working and conferencing, but also for exchange, networking or just enjoyable lingering.
You do not have to be a Wonderwoman or a Superman to do heroic work here. Here you are visible, here you become effective. Your ideas do not just learn to walk, they come to fly. The superficial is often not ultimately decisive. Everything fits here.
Marvel, DC, high flyer or normal? We have offers and spaces for everyone and everything that recognize and complement you in your own sense. Individuality and involvement are explicitly desired. Spaces with infrastructure and soul form the basis for successful processes and spatiotemporal independence. Confirming that this is not just any place, but one of the best locations in Switzerland encourages us to continue to shape change and growth of the better kind. It's magic? No, it's BusinessPoint Bern.
Whether workplace, meeting room or for a meeting in the cafeteria. They offer the right subscription for every need.
On 550 square meters, the BusinessPoint Bern offers 12 individual workplaces in an open workspace as well as 9 meeting or office rooms for 4 to 40 people.
In the open meeting zone you will be supported by the space employees and can cater for you. Coffee, tea, mineral water and fruits are included in the price. Throughout the BusinessPoint you have free Wi-Fi access and in the meeting rooms and offices you have a projector / TV for presentations and a white board or flipchart available – all included in the price.
Membership plan: Daily pass at 38 CHF, Flex desk at 690 CHF per month, Fix desk at 900 CHF per month.
Find BusinessPoint on Website | Facebook | Twitter
4. IMPACT HUB BERN
Combining the best elements from a coworking space, ideas lab and a business incubator, Impact Hub Bern is another space under the big umbrella of Impact Hub spaces. This dynamic community space is where you can develop innovative answers to the economic, ecological and social challenges of this era to create a sustainable future for Berne, Switzerland and the world.
The lively community of pioneers, creatives, motivated entrepreneurs as well as representatives of public and national institutions plus the public sector, are all working together to bring about change for the good. Offering a wealth of programs and events with inspiring content to speed up vertical networking, Impact Hub Berne is an ecosystem where you can dive into the global digital movement. Coworking members are entrepreneurs, intrapreneurs, activists, creators, mentors, investors, freelancers and professors who like to work together exchanging ideas and sharing resources.
When you become a coworking member you will gain access to mentoring, funding avenues and an inspiring plus expanding network of cohorts. With its unique and creative atmosphere, Impact Hub Bern offers event and meeting spaces suitable for workshops, hackathons, innovation days, keynotes and meetings. You will have access to their own quirky and unconventional events such as Sexy Salad, Friday Eve Beer or themed workshops to expand your skills. Bringing the startup spirit to companies, you will benefit from the help programs on how to develop innovative products and services and be able to mingle and mix it up with like-minded souls.
It is a community of "impact makers" where you can grow and scale, work and connect, innovate and share. A part of a global network of collaborative spaces and entrepreneurial communities.
Find Impact Hub Bern on Website | Facebook | Twitter
5. THE WORKHUB BULLE
TheWorkHub is a coworking space located in the heart of Gruyeres, in Bulle. It is developing a community of various profiles (freelancers, employees, start-uppers) who work under the same roof and exchange when needed.
We offer 15 work stations, be it for the day or for a longer rental term as well as a common cafeteria, two small meeting rooms if you want to isolate yourself for a call or for a talk and a bigger meeting room which fits 4 – 8 people.
Various activities are offered at TheWorkHub, a monthly brunch for coworkers, a monthly drink, and education courses on various topics as well as a Cycle Entrepreneur offered to people who need help in creating their business.
Membership plan; open seat for a day at 36 CHF, flex desk at 350 CHF per month, fixed desk at 450 CHF per month, meeting rooms at 25 CHF to 10 CHF.
Find WorkHub on Website | Facebook
Whether you are looking for a job, your next co-founder or recruiting your tech talent, Bern Tech Job Fair  is an event to attend on 30th April 2020. For all professional networking and more information about the event and how you can get more out of the experience, visit Techmeetups.com  and also get yourself a ticket to an event!
Website: Techmeetups.com  visit and treat yourself to a community of tech business events and support!
TechMeetups.com 8 years. 21 cities. 68 job fairs. 1100+ hiring companies. 60,000+ job seekers.