[vc_row][vc_column][vc_column_text]Hello,
As a mother we always want the best for our kids. Making sure they have the best education for them to have a better future.
See our latest find:
"Learning to code, regardless of the path a child chooses to take, is crucial today. Research shows us that this knowledge will be important in any career. As both a female leader in technology and a mother of a 10-year old boy, I am acutely aware of its critical importance in both my professional and personal life. Coding is a necessary literacy in this technological age."
It comes from this article. Do you think that it is important for kids to learn coding at an early age?
Best regards,
Silvi[/vc_column_text][vc_row_inner][vc_column_inner width="1/2″][vc_column_text]CATCH UP WITH OUR SHOP
Bluetooth Adapter Controlling Calls And Music Without Hassle
Multi Slot Card Reader Working With Files at the Same Time
Anti-Lost Alarm Locating has never been This Easy
CAREER ADVICE FROM TECH STARTUP JOBS
What an Interviewer Wants To See: 5 Tips Any Applicant Should Consider
Job Search Tips: How to Make the Process Fun and Useful
Build Your Brand to Get that Job
STAY UP TO DATE WITH TOP NEWS
Microsoft's HoloLens 2
Google used shell companies
Jobcase raises $100 million to connect blue collar workers with employers[/vc_column_text][/vc_column_inner][vc_column_inner width="1/2″][vc_column_text]WORK ON YOUR ENTREPRENEURIAL SIDE
More Than Half of Entrepreneurs Forgo Salaries When They Launch Their Companies
7 Tips for Turning Your Vision Into Reality, Starting With Thinking Big
Why is it Necessary to Keep Personal Finances and Business Accounts Separate for Entrepreneurs
GET BETTER AT YOUR JOB
What you should do when you feel unappreciated at work
10 Things to Do in Your 20s So You're Successful in Your 30s
13 Sure-Fire Steps to Getting Ahead at Work
BOOK OF THE MONTH
Coming from the famous Peter Thiel, the Zero to One book on startup delivers some down-to-earth practises of creating your own business. If all you can think about in 2019 is your startup, Zero to One is your must read in January.[/vc_column_text][/vc_column_inner][/vc_row_inner][vc_row_inner][vc_column_inner][vc_column_text]
CHECK OUT THESE EVENTS COMING UP
[/vc_column_text][vc_single_image image="75390″ img_size="full"][vc_column_text]Whether you are looking for a job or recruiting, be part of Tech Job Fairs by Techmeetups.com in London, Dublin, Barcelona, Zurich, Amsterdam, Berlin, Munich, Stuttgart, Frankfurt, Lisbon and NYC![/vc_column_text][/vc_column_inner][/vc_row_inner][vc_row_inner][vc_column_inner width="1/2″][vc_column_text]
London:
Free Evening of Drinks & Talks – Growing Your Digital Agency – 13th March
BookMachine at The London Book Fair 2019 – 13th March
6th Commonwealth Africa Summit 2019: Investing in Our Common Future – 11th March
Barcelona:
XTB Tour: Investment opportunities for 2019 – Barcelona – 12th March
Professional Conference: How to improve our processes of receiving goods – 13th March
Barcelona Tech Job Fair 2019 – 4th April 2019
Zürich:
AI and the Future of Financial Crime Prevention – 12th March
Final Pitch – Women Entrepreneurs Week 2019 – 15th March
Zurich Tech Job Fair 2019 – 16th May 2019
Munich:
Bauhaus – Role Model for Modern Company Culture? – 12th March
"I Need A Dollar" – Startups sharing their experience of Finance – 14th March
Munich Tech Job Fair 2019 – 14th March 2019
Dublin:
KYC remediation and how to get it right – CPD Event – 14th March
Brazilians of Success in Ireland 2019 – 15th March
Dublin Tech Job Fair 2019 – 21st March 2019
Berlin:
Become a Marketing Ninja w/ Raisin & Zipjet – 12th March
SHAPING THE TRANSFORMATION – 15th March
Berlin Tech Job Fair 2019 – 28th March 2019[/vc_column_text][/vc_column_inner][vc_column_inner width="1/2″][vc_column_text]
Amsterdam:
Ad Buyers Amsterdam Meetup – 13th March
HRinTech: Talent Beyond Borders – 14th March
Amsterdam Tech Job Fair – 29th November
Lisbon:
Content for Growth – 12th March
Marketing Week 2019 – 13th March
Lisbon Tech Job Fair Spring 2019 – 30th of May 2019
Frankfurt:
Free SEO Workshop in Frankfurt: SEO as a business model – 13th March
How To Develop A Content Marketing Strategy – Online  – 14th March
Frankfurt Tech Job Fair Spring 2019 – 16th May 2019
New York:
Free Networking Event In NYC – 14th March
NYC Startup Job & Internship Fair – 14th March
New York Tech Job Fair 2019 – 6th June 2019
Stuttgart:
#DMW Stuttgart meets Bosch: Working Out Loud in action – 14th March
STEYG Founder Talk (topics and dates see description) – 14th March
Stuttgart Tech Job Fair 2019 – 23rd May 2019
If you have a free event and would like to promote it to the community let us know![/vc_column_text][/vc_column_inner][/vc_row_inner][vc_row_inner][vc_column_inner][vc_column_text]
BECOME A VOLUNTEER IN OUR EVENTS
[/vc_column_text][vc_single_image source="external_link" alignment="center" custom_src="https://lh3.googleusercontent.com/-n-9jEtEw8PODO79OtjLEKh-pPASjcbwPupIzuP-cLY8AJvho6VjX27FLmqF38VJTeCh-EOOEvdxwotrjxnmmKReGk6MwRDWLJdAC7JsyKQX3WqUx08Awj9pNGtSDkf59A"][vc_column_text]Please contact [email protected][/vc_column_text][/vc_column_inner][/vc_row_inner][vc_row_inner][vc_column_inner][vc_column_text]
BROWSE HOTTEST JOBS IN TECH STARTUPS
[/vc_column_text][/vc_column_inner][/vc_row_inner][vc_row_inner][vc_column_inner width="1/2″][vc_column_text]London
Barcelona
Zurich
Munich
[/vc_column_text][/vc_column_inner][vc_column_inner width="1/2″][vc_column_text]Dublin
Berlin:
Amsterdam
Anywhere:
[/vc_column_text][/vc_column_inner][/vc_row_inner][vc_row_inner][vc_column_inner][vc_column_text]More jobs and career opportunities on from our clients on Tech Startup Jobs![/vc_column_text][/vc_column_inner][/vc_row_inner][vc_row_inner][vc_column_inner][vc_column_text]LEARN MORE ABOUT EMPLOYERS LOOKING FOR YOU
JOIN BARCELONA TECH JOB FAIR 2019 HERE: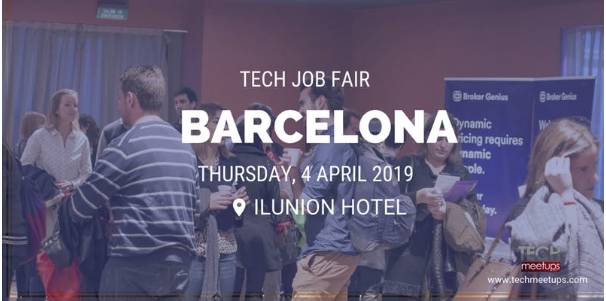 Partners:
Barcelona Graduate School of Economics
Barcelona Metropolitan
JOIN ZURICH TECH JOB FAIR 2019 HERE: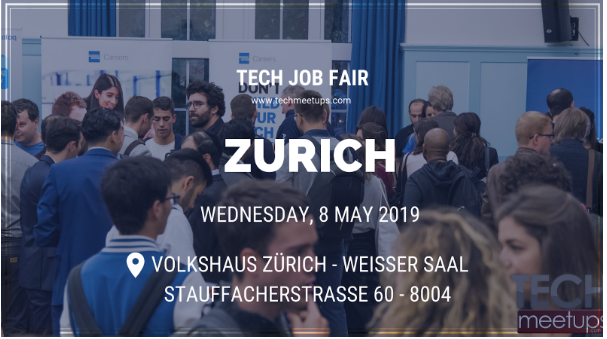 JOIN MUNICH TECH JOB FAIR 2019 HERE: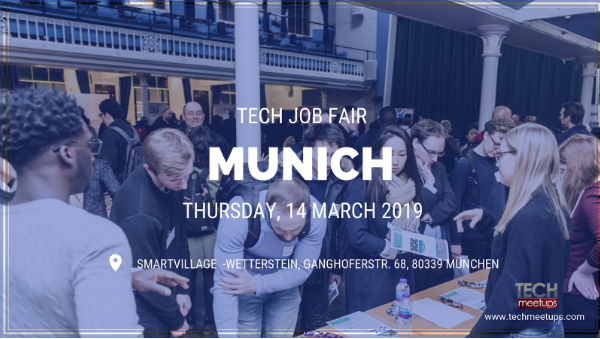 Partner:
JOIN MUNICH TECH JOB FAIR 2019 HERE: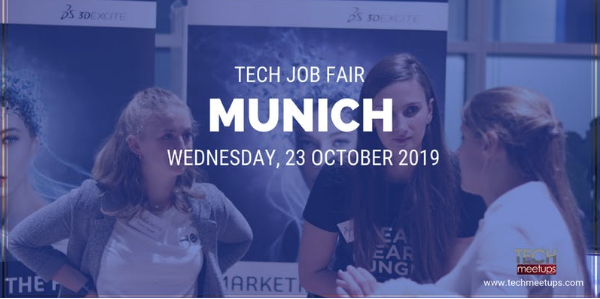 Partner:
JOIN DUBLIN TECH JOB FAIR 2019 HERE: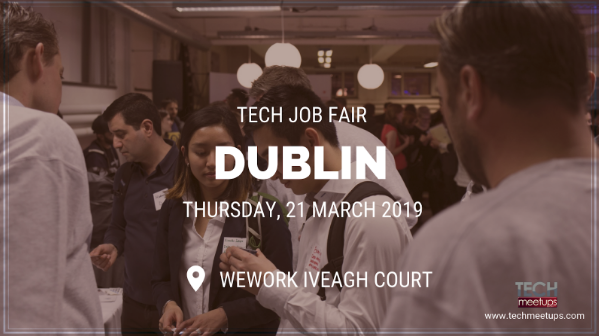 Partners:
JOIN BERLIN TECH JOB FAIR 2019 HERE:
Partners:
JOIN BERLIN TECH JOB FAIR 2019 HERE: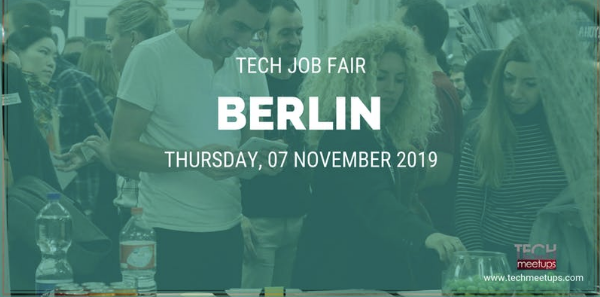 JOIN AMSTERDAM 2019 HERE: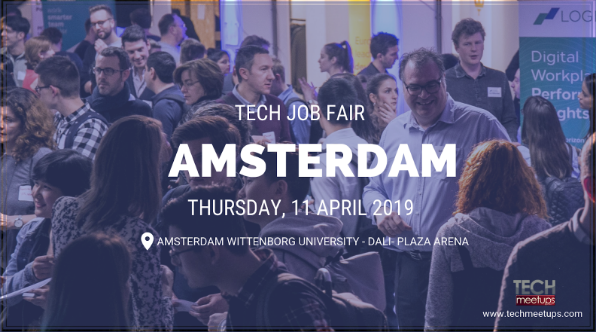 JOIN STUTTGART TECH JOB FAIR 2019 HERE: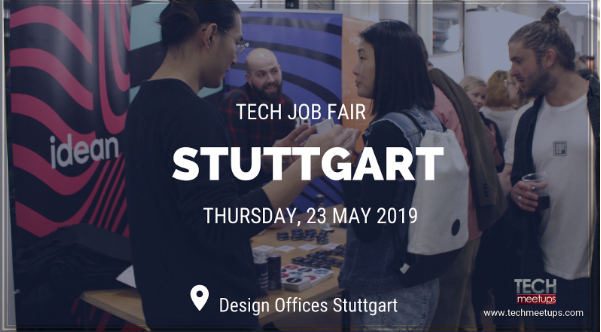 JOIN LISBON TECH JOB FAIR 2019 HERE: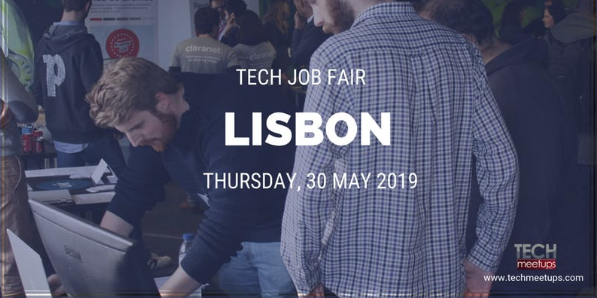 JOIN FRANKFURT TECH JOB FAIR 2019 HERE: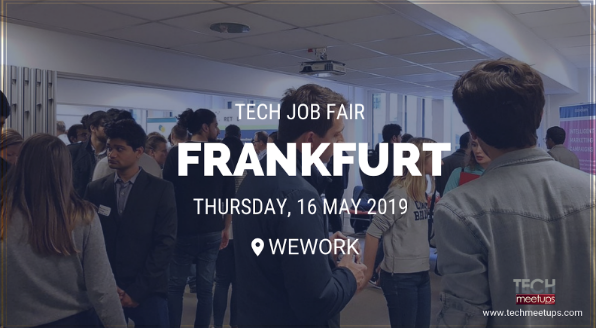 Partners:
Follow us on Social Media
TechMeetups Facebook | Twitter | Instagram
Tech Startup Jobs Facebook | Twitter
[/vc_column_text][/vc_column_inner][/vc_row_inner][/vc_column][/vc_row]