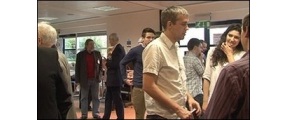 Silicon Fen shows off its wares at Cambridge showcase
Original post by Dougal Shaw via BBC
Technology companies show off their products in Cambridge
The iPad hovers over the poster showing a picture of a fire.
Suddenly the static image bursts into flames with a crackle.
"That's the devil's work," cries an onlooker, taking a step back.
The man holding the still smouldering device turns to his audience with a grin.
Simon Taylor has done this trick dozens of times today, but still seems to relish performing his Harry Potter-esque magic to the crowd.
Meerkats and Avatars
His company Zappar is showing what its augmented reality software can do at a technology event on the outskirts of Cambridge.
Meerkats and Avatars, held on Tuesday, is a showcase for small and medium sized companies (known as SMEs) in the technology sector, held at St John's Innovation Centre.
The showcase is an important day in Cambridge's business calendar.
It is a chance for the next generation of technology giants to reach out to a wider audience, including investors.
Products on display this year include software that can turn a series of traditional photographs into a 3D panorama, a USB stick that improves password security and an application that allows you to transport your desktop from one computer to another using your mobile.
Cheek by jowl with these digital innovations are more "physical" inventions.
A "black box" for cars that saves fuel and improves safety; a new acoustic device for detecting leaks in water pipes; a "life light" for children's bedrooms that can guide firemen in thick smoke; and a nutritional supplement shake devised by a former athlete.
From their humble stands, all firms are vying to be the next Autonomy.
Formerly the largest British-owned software company before it was bought by Hewlett Packard earlier this year, Autonomy had its first offices in St John's.
In the current economic climate, with scarce capital and wary investors, events like these are more vital than ever to give small firms a hand up.