Need help to get a job that doesn't make you miserable? Join the Tech Job Fair! So, update your resume, and get ready for interviews!


About this Event
TechMeetups is a Global cluster of 22 interconnected communities with 65,000+ startups, students and graduates, professionals, coders, salespeople, financiers, marketers & developers across the world. We have communities all over the world: London, Berlin, Amsterdam, Barcelona, Paris, Lisbon, Stockholm, Madrid, Copenhagen, Hamburg, Munich, Dublin, Bern, Zurich, Stuttgart, Frankfurt, New York https://techmeetups.com/events
TechMeetups.com 9 years . 22 cities . 75 job fairs . 1100+ hiring companies . 65 000+ job seekers
Techmeetups Tech Job Fairs seeks to connect diverse job seekers with diversity-minded companies.We help companies through Events like Meetups, Job seekers night, Drinks & Demo, Pitch night, recruITech, Workshops, Hackathons, Job Fairs. When great people and great companies come together, amazing potential can be realized.
This event is a chance for jobseekers to talk & interact with companies/recruiters and get interviewed through chat and video on TechMeetups Zoom platform.
AGENDA
18.00 – 18.30 Companies Presentations
18.30: A Q&A session in Companies Room
WHY ATTEND?
With social distancing measures in effect right now, it's rather difficult to gather hiring employers and job seekers in one place so these days, more and more businesses are conducting video interviews with potential employees.
Showcase your company's brand and technologies to let the developer community know you're hiring. Find your missing talent link -create lasting business and professional impressions as a landmark for future recruiting and contact.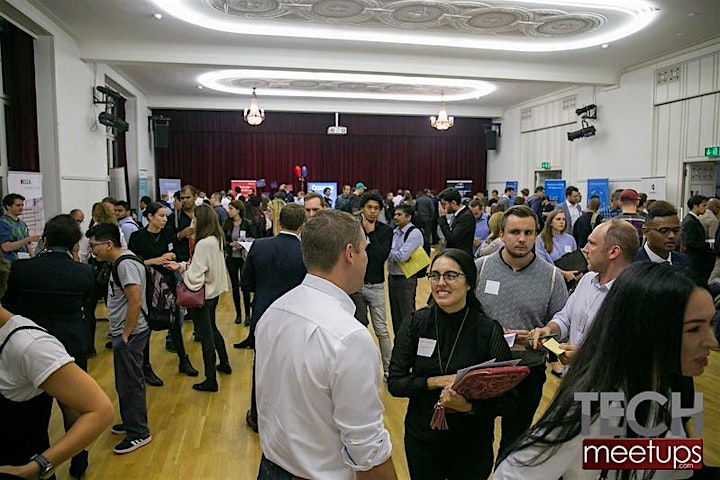 Need help to get a job that doesn't make you miserable? Join the Tech Job Fair! So, update your resume, and get ready for interviews at companies hiring now. Whether you are looking for a job or recruiting, Tech Job Fair is the place to be! The speed dating event for recruiting! Come to meet employers, ask questions, and make connections.
A chance for job seekers to talk to companies that are hiring in person. If you've had enough of submitting your CV online without the opportunity to make a lasting first impression, here's your chance to change your strategy and do a bit of networking.
Companies Exhibiting:
Together we build the future of last-mile delivery and grocery shopping. Backed by a major Swiss Venture Fund, MIACAR successfully launched in the region of Bern and we are now growing our company at high speed. Join us in becoming the category king in Switzerland and help us giving our customers what they really want: More time for the beautiful things in life.